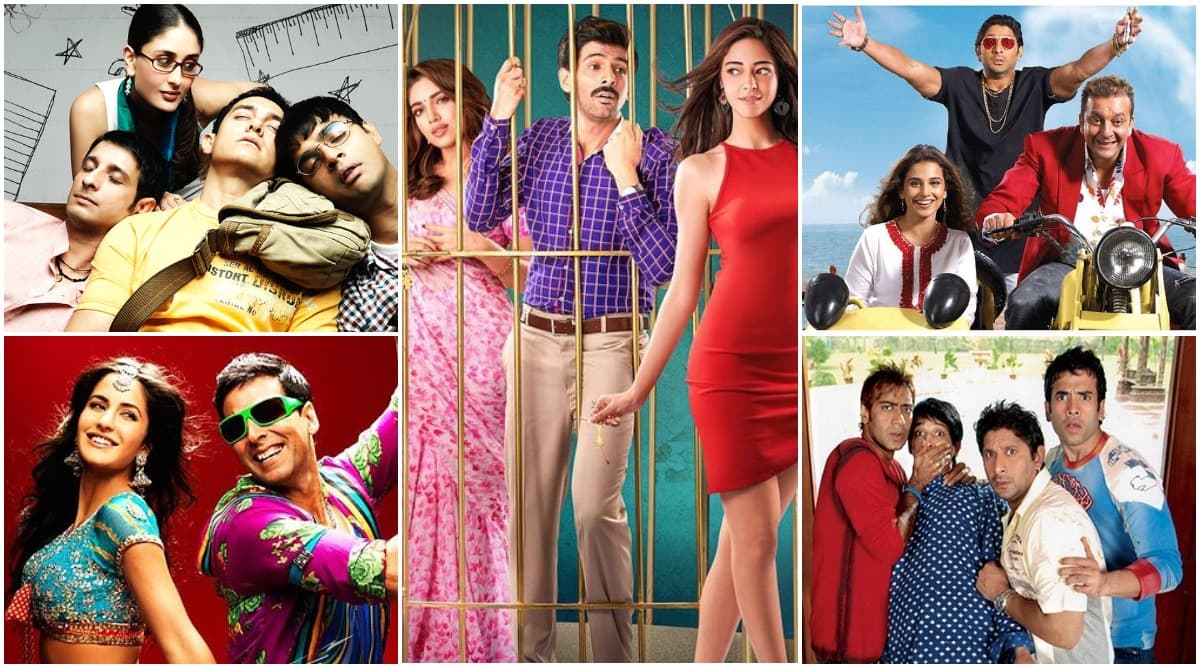 The first trailer of the Pati Patni Aur Woh remake was dropped on November 4, 2019, and it received mixed reactions from Twitterati. The fans of its lead stars, Kartik Aaryan, Bhumi Pednekar and Ananya Panday, have loved the trailer and have lapped up the comedy of the film. And then there are others who have accused the Muddassar Aziz film to being sexist and misogynist, and Kartik Aryan for being repetitive in his performances. Kartik Aaryan's Pati Patni Aur Woh Trailer Faces Flak for Making a Joke About Marital Rape (Read Tweets).
One dialogue in the film particularly irked the conscientious movie buffs. In a scene, Kartik Aaryan's character says, "Biwi se sex maang le toh hum bikhari. Biwi ko sex na de toh hum atyaachari. Aur kisi tarah jugaad lagake usse sex haasil karle na toh balatkari bhi hum hai!" Its literal translation is "If we ask for sex from our wife then we're beggars. If we don't give her sex then we're cruel. And if we somehow hack our way into attaining sex from her, then we're a rapist as well."
The final line alludes to 'marital rape' which is the reason why the trailer is getting so much flak for making light of what many consider a serious offence. While marital rape is still not considered punishable by law, human rights groups are doing their best to get it recognised as a crime. So many feel that such a dialogue only dilutes what the groups have been working on.
Pati Patni Aur Woh is not the first movie that got away making jokes on rape and eking laughs out of it. In the pre #MeToo era, where both films and the audiences were not sanitised about what jokes were right and what is not, there were quite a few films that made merry with jokes on sexual assault. Here are some major culprits.
3 Idiots
You anticipated this one, didn't you? And I am pretty sure that when the scene was played for the first time when you watched this Aamir Khan-starrer, you laughed the guts out. Even this writer did. 3 Idiots, directed by Rajkumar Hirani (who, ironically was implicated in a #MeToo scandal), is most remembered for the below scene, where Chatur (Omi Vaidya) makes a mess of his speech, where 'chamatkar' is replaced with 'balatkar', and 'dhan' with 'stan'
It doesn't really make light of sexual assault cases, but merely extracts laughter out of the speaker's woeful ignorance. That said, the repeated use of 'balatkar' could induce cringe.
Golmaal
The first film in Rohit Shetty's comedy franchise still remains the best film in the series. But it does have a few problematic scenes and dialogues that haven't aged well. Like the below scene. Here, the characters played by Ajay Devgn, Arshad Warsi, Tusshar Kapoor and Sharman Joshi, are first seen enjoying what they think is a girl (Rimi Sen) getting sexually assaulted. Arshad Warsi's character even says 'Mind-blowing, yaar!'. When they 'rescue' her and beat the shit out of her 'assaulters', they only do so to impress her.
And later, when they realise that it was a rehearsal for a play that the girl and her friends were doing, Ajay Devgn tells her injured friend to continue to 'rape' her. While the Golmaal franchise continued to have homophobic and sexist jokes, at least Rohit Shetty tried avoiding rape jokes.
Tees Maar Khan
Tees Maar Khan is an Akshay Kumar comedy that even the superstar doesn't want to remember. The Farah Khan film is not a complete travesty, with some occasionally funny jokes and Akshaye Khanna's hilarious spoof of a Bollywood superstar hitting the sweet spot. But this ripoff of After The Fox doesn't hold much weight. And there is this dialogue of Akshay Kumar- "Tawaif ki looti izzat bachana, aur Tees Maar Khan ko qaid Karna,  dono bekaar hai". Its translation is - "Saving a prostitute from rape, and capturing Tees Maar Khan, are both waste."
So according to Shirish Kunder who wrote this dialogue, there is no point in saving a sex-worker if she is getting sexually assaulted. How did anyone in the team not think that this is problematic in so many levels? The main star was also audacious enough to pick out this dialogue from the many other lines in the film, and repeat it to his fans during a promotional event, as seen in the above video.
Lage Raho Munna Bhai
Arshad Warsi and Rajkumar Hirani make it back to this list with the opening sequence of this enjoyable Sanjay Dutt-starrer. The scene has Arshad's character Circuit kidnap a bureaucrat, who screams for help. This prompts Circuit to say, "Arre kya 'bachao bachao' chilla rela hai? Izzat lootrein hai kya teri? 'Police police' chillane ka!" Which translates to, "Why are you shouting 'save me, save me'? Are we raping you? You should shout 'Police Police'!"
Compared to the other scenes in the list, this is paler in impact, but the casual inference to rape shouldn't be overlooked.
While these movies came in a decade gone by, it isn't that only in recent times Pati Patni Aur Woh brought back jokes on rape. Earlier this year, Rakul Preet's character in De De Pyaar De asks Ajay Devgn's why he didn't take advantage of her, when she was drunk and unconscious. Recently in Housefull 4, in the song "Shaitaan Ka Sala", Akshay Kumar's character Bala is seen harassing a dancer, and when she doesn't give in to his whims, he asks his guards to take her away to be executed. In another scene, he picks off girls from Bangdu Maharaj's dance class for his entertainment. Sure, the scenes are played for the laughs and are not supposed to be taken seriously. But where exactly can we draw the line in what's acceptable as a joke and what isn't?