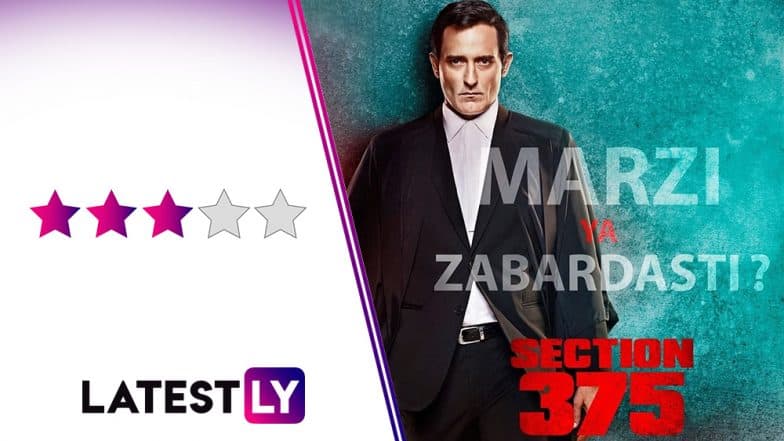 Section 375 Movie Review: "We are not in the business of justice… but in the business of law," declares Tarun Saluja (Akshaye Khanna) to his former assistant and present legal opponent Hiral Gandhi (Richa Chadha). I think this line nicely represents the idea of Section 375 as a movie, where several law points and hassles are thrown around and dissected and argued. But talking about justice being delivered, it depends on how you look at the turn of events. There is nothing black and white.in Section 375, where even idealism feels like a hollow matter. And when your film is sprawling in this dense grey muck, it is bound to invite divided opinions and controversies. Just like its premise. Section 375 Falls in Legal Trouble, Petitioner Alleges Akshaye Khanna's Courtroom Drama Maligns Lawyers.
Tarun and Hiral are on the opposite sides of the controversial State of Maharashtra Vs Rohit Khurana case. Rohit (Rahul Bhat), a top director is accused of raping Anjali (Meera Chopra), the costume designer of his latest film. Not just that, he is also alleged to have beaten her black and blue in the process. Anjali has the bruise marks to show and the medical reports also confirm rape.
The sessions court finds Rohit guilty and convicts him. So when the appeal goes to the High Court, Rohit hires Tarun to represent him to save his skin, all the while insisting that he is innocent. Is he really saying the truth, and if so, why is he getting framed?
The premise here in Section 375 is quite tricky. So are the kind of arguments that Tarun makes in defense of his client. But I will get to that in a bit.
Purely, looking at it as a Courtroom Drama, I found Section 375 to be highly engaging. Director Ajay Bahl, who made the critically acclaimed BA Pass, did the right thing by setting 90% of the proceedings within the court confines, lending some very appealing legal drama. The intricate layering of two diverse narratives of what happened that fateful day makes for some very strained moments, and the movie benefits hugely by not having scenes played for the laughs (a la Rustom). Also, the performances are top-notch.
There are some very insightful discussions that deserve debate here (writer - Manish Gupta). Like how in handling certain cases of sexual assault, the burden of providing proof is expected from the accused rather than the accuser (which is different in other crimes). Also how Tarun reminds his wife (Sandhya Mridul) that even a convicted rapist deserves a chance to defend himself in the court.
The unravelling of the botched police investigation and Tarun displaying the chinks in the prosecution case grab your attention. What works in favour of Section 375 is how it offers a different viewpoint to what is the more general opinion. It argues hard about how easy it is to label someone guilty on social media these days, without giving the person a fair chance to fight for himself or herself. And in the end, we realise that nothing is really what it seems, even when things fall in places, and justice is served in a very strange way. Is it me, or does the climax of the film feel like it's trolling PINK? Section 375 Actor Richa Chadha Suggests Sexual Harassment Accused Shouldn't Be Trolled until Proven Guilty.
The ambiguity of the whole case works big time here, especially since both the alleged perpetrator and the victim have things to hide. Such an aspect had lent to fantastic legal dramas in the past like Witness for the Prosecution, 12 Angry Men, Anatomy of a Murder, or closer home, Talvar - movies where it isn't about truth or not, but if the evidence really supports the accusations.
A big glitch here is how Richa Chadha's character in the court. Apart from the data-laden opening argument and a strong closing statement, Hiral really doesn't get to put both her feet in the boat. Facing a really strong opponent, the character is mostly confined in saying 'I object' and making flustered faces. Considering that she represents the #MeToo advocate of the film, you can't help but suspect the fact that Section 375 is a little biased in its own convictions.
That reminds me of the part where Section 375 slips the most. It is when the film tries to make a statement when I have some issues with its intentions. I agree that there have been many instances where men were falsely accused of sexual assault and harassment. It is a great thing that Section 375 deals with this grey aspect of our judicial system. But in doing so, the movie also brings down the #MeToo movement in a not so subtle manner.
Watch the Trailer of Section 375 here:
Section 375 is bound to cause outrage considering how strongly inclined the makers are towards saying how a man who is accused of sexual assault always remains an accused for the society, even if he is proven innocent. That may be the case, but this film comes out from an industry where Vikas Bahl is retained as a director of Super 30 after the #MeToo accusations against him were dispelled by a panel of his own production house. Or how recently, Aamir Khan has decided to work with another #MeToo accused film-maker saying no one should be deemed guilty until proven otherwise. Fair thing, but how much of that levy is applicable to the victims?
There would have been less of an itch to scratch about Section 375, if the movie restrained itself from generalising itself, and instead be a twisty courtroom drama that it actually is for the remaining portions.
The Performances
Akshaye Khanna gives a commanding performance as the hotshot lawyer who uses his guile to deliver compelling arguments. It is a treat to watch the actor strut around in terrific scene-stealing form, with his piercing eyes doing half the job. Watch out for the scene where his face is splashed in ink by a protester and he looks at his reflection in the mirror, his eyes screaming anguish and indignation.
Richa Chadha, sadly, feels like a fish out of water in a role that is quite half-baked and deserves better treatment. She shines, though, in the scenes where she delivers her closing statement and later, her final meeting with her client that mostly depends on her expressions. Rahul Bhat encompasses the dual nature of his character with finesse, making it difficult for the viewer to figure out the nature of his personality. Meera Chopra is absolutely excellent here, who, like Mr Khanna, lets her eyes share her tale of betrayal and fury. Kishore Kadam and Kruttika Desai are efficient as the no-nonsense judges, who often appear impartial. Sandhya Mridul gets very less scope. Shriswara is good.
Yay!
- The Performances
- The Ambiguous Narrative and Characters
- Engaging Courtroom Sequences
Nay!
- Doesn't Work As a Statement
- Richa Chadha Doesn't Register a Strong Impact
Final Thoughts
I loved Section 375 when it aims to be a thrilling courtroom drama, with some tense moments, and Akshaye Khanna's commanding performance. I loved the film when it pokes at the fallacies in the flawed investigation techniques that the cops adopt when it comes to assault cases. Where it falters is when the movie tries to heckle the #MeToo movement itself.  Protect the innocent, but don't undermine the victim.