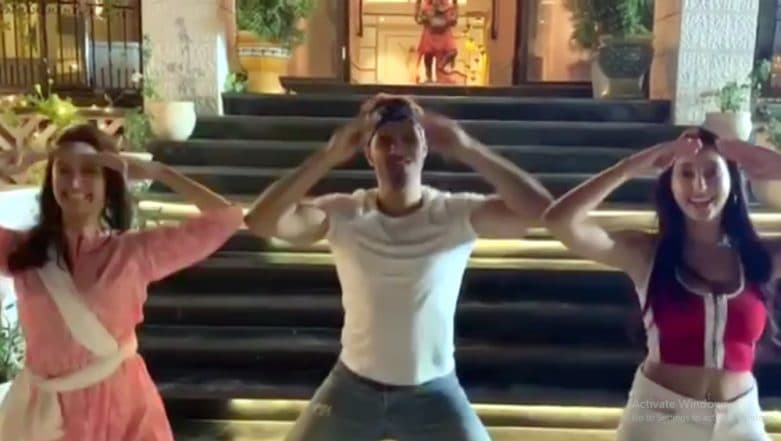 Varun Dhawan, Shraddha Kapoor and Nora Fatehi are currently shooting for their film, Street Dancer 3D. We are getting timely updates about the fun that they are having on the sets, thanks to their regular social media updates. A video previously, showed us Shraddha and Nora having sort of a dance off. But the dance battle is far from over. A new video has been posted by Varun, in which you can see Shraddha and Nora, playfully, figt each other on the Kalank song, First Class. What a smart way to promote two movies at once.
We are here for all the drama. We see Shraddha and Nora challenge each other to dance, absolutely immersed in the Street Dancer vibe. Anusha Dandekar pops up on camera and says, "Round 1,". You can hear Varun hyping Nora and Shraddha all this time. Varun Dhawan-Nora Fatehi's Dance-Off on Dilbar Song Will Energise Your Grey Tuesday.
Varun joins the ladies soon enough. And three start doing the hook step of First Class. And the video has quite a funny end, with Shraddha and Nora attacking Varun and making him fall to the ground.
Check out Shraddha and Nora's funny dance off on Kalank song First Class below:
Street Dancer was supposed to star Katrina Kaif alongside Varun Dhawan. But the actress had to drop out of the project owing to her commitment to the movie, Bharat. And then Shraddha Kapoor came on board replacing her. Interestingly, Priyanka Chopra was supposed to do Bharat. But opted out of the movie to get married to Nick Jonas. After her last minute exit, Katrina was brought it.
From the videos and pictures from the sets of Street Dancer 3D, it looks like the actors are getting along well. The vibe is very fun. And we are looking forward to watching this one on the big screens.