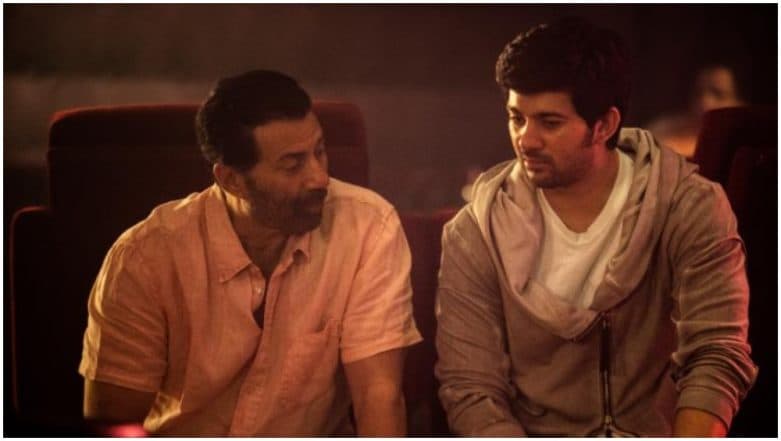 Another starkid is ready to take on Bollywood in the coming weeks! Karan Deol, the son of actor-politician Sunny Deol is all set to make his debut with the movie, Pal Pal Dil Ke Paas that is scheduled to release on September 20. What's interesting is that the film is directed by Sunny Deol, which makes Pal Pal Dil Ke Paas his third directorial attempt. Sunny Deol had earlier directed films, Dillagi and Ghayal Once Again, both starring himself in the lead. Now Sunny Deol is paving way for Karan to take the lead, though we are really expecting him to make a cameo here. Pal Pal Dil Ke Paas Teaser: Karan Deol and Sahher Bambba's New-Age Love Story Looks Promising (Watch Video).
Now The Deols are not exactly great promoters of their movies, but for his son's big launch, Sunny is leaving no stone unturned to get the film maximum attention. Despite his busy schedule as the MP elected from Gurdaspur, Punjab, Sunny is taking the time to get into the promotions of Pal Pal Dil Ke Paas. As the first step oh their promotions, the team is going to Zee TV's Dance India Dance to talk about their film.
In lieu of this event, Sunny has shared a video on his Instagram page where both he and Karan are having their touch up before going on the show. While Sunny was looking all serious, Karan was sheepishly smiling throughout. Sunny has used an adorable caption for the video and we are totally agreeing with it. Dharmendra Has Some Words of Wisdom for Grandson Karan Deol and Saher Bamba for Their Debut Film Pal Pal Dil Ke Paas – Watch Video.
The movie's female lead and debutante Sahher Bambba is also going with them on Dance India Dance. The dance-based reality show has Kareena Kapoor Khan as one of the judges.
Talking more about the movie, Pal Pal Dil Ke Paas is touted to be a romantic adventure thriller. The teaser that was revealed on August 5, 2019, received much appreciation for its music and visuals.