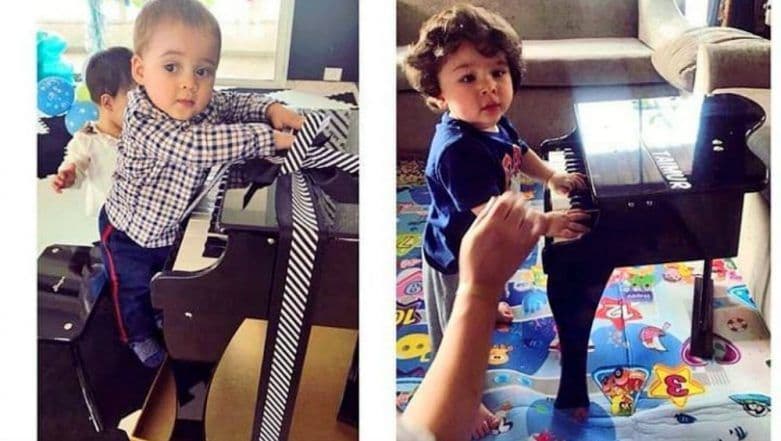 Karan Johar is one proud father and everybody can totally feel it! Since the arrival of his twins Yash and Roohi to their first birthday on February 7, KJo has been flaunting his love for his kids on the social media. As the babies turned one, the filmmaker made it a point to make this a celebration worth remembering for years to come. Toddlers across the tinsel town including AbRam Khan, Taimur Ali Khan Pataudi, Aaradhya Bachchan, Misha Kapoor were present at this bash. However, the fans are still gushing over these cute pictures. A new snap has hit the internet where Taimur and Yash are seen playing a piano and it is adorable!
Looks like the bash had this little toys which had a fun piano for the munchkins to try their hands on. The enthusiastic baby that Taimur is, could not keep his curiosity for long and started playing the piano. In fact, there is also his name written on the instrument!
On the other hand, birthday boy Yash was busy untying the ribbon on his piano before he actually understands what that thing is! Johar termed them as 'Future musicians' already! There is another video from the bash where Yash and Roohi are in musical crawlers, all lost playing with each other.  Earlier, Karan had posted a heartwarming caption on the social media saying, "I can't thank the universe enough for giving my mother and me the most beautiful gift ever....Happy Birthday Roohi and Yash....you are a blessing to us."
So, check out the cutsie photographs of the toddlers here and make your Monday a bit happier than usual! Do let us know your thoughts on this in the comments section below. Stay tuned for more Bollywood updates.