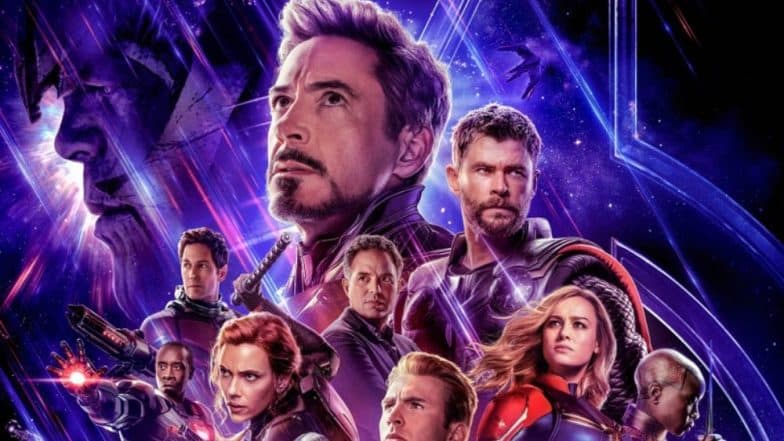 My hand trembles as I start writing this copy about Avengers Endgame's first reactions. The biggest crossover event in the history of Marvel and Hollywood, Endgame is distinctly different than Infinity War, well, that's what one of the reaction suggests at least. The premiere of Endgame was held in LA last evening and a few of the lucky ones who were a part of it are busy singing its praises on social media. From calling it Marvel's most emotional and most epic movie ever to tagging it as a new personal favourite among the 22 releases, Twitterati can't stop gushing about this new offering and the feeling is nothing unusual. Avengers Endgame: Marvel Officially Releases Captain Marvel's Post Credit Scene With All the Others (Watch Video).
We expected Marvel to go all out with its new release, especially for the significance it carries. With all the Avengers assembling together to fight the Mad Titan and avenge the fallen, you know the experience lying ahead is nail-biting and worth waiting for. With barely three days left for its release, Avengers Endgame is expected to set the box office on fire and we mean across the globe. Feel we are exaggerating? In that case, check out the first reactions of this 'marvel' below. Avengers Endgame LA Premiere: Robert Downey Jr, Chris Evans, Scarlett Johansson, Brie Larson and Others Grace this Big Night - View Pics.
'Satisfying' 
#AvengerEndgame is an immensely satisfying payoff, not just to Infinity War but to all the films that came before. This is why the MCU. (And I say this as someone who was not especially enamored of Infinity War, FWIW.) ♥️💙💜

— Angie J. Han (@ajhan) April 23, 2019
'Amazing'
Well, that was AMAZING!!! So many emotional moments that makes it special and the future continues to shine bright for the #MCU! Go see it. MULTIPLE TIMES. #AvengersEndgame #DontSpoilTheEndgame pic.twitter.com/Yxo7hJP9Ny

— Brian Tong (@briantong) April 23, 2019
'Fun'
So, #AvengersEndgame hits the required beats, with plenty of fan service (most of it earned) and plenty of wit. It doesn't make a ton of sense (and the action is a comedown) but it's unquestionably fun.

— Scott Mendelson (@ScottMendelson) April 23, 2019
'Epic'
#AvengersEndgame is a masterful epic - a true culmination of 22 films that not only concludes the story, but expands upon it. You'll learn more about the other movies while this one unfolds. If Infinity War is the brawn, Endgame is the brains. And wow, what an ending! pic.twitter.com/94ttBUQKJ0

— Erik Davis (@ErikDavis) April 23, 2019
'Astonishing'
#AvengersEndgame is an astonishing, amazing film. I've never seen anything like it. This movie is everything I wanted to be and SO much more. Amazing.

— Brandon Davis (@BrandonDavisBD) April 23, 2019
'The best version'
Imagine the best possible version of #AvengersEndgame and somehow the film still surpasses all expectations. I cried 5-6 times. It's the most emotional, most epic, MCU film. A tribute to ten years of this universe and holy shit the great fan service in this movie. Soooo good.

— Peter Sciretta (@slashfilm) April 23, 2019
Avengers Endgame will end a very glorious chapter in the history of Marvel but pave way for new beginnings. While many prominent actors are expected to bid adieu to their superhero characters, others are gearing up to join this new phase of MCU. On that note, let's buckle up to go on this emotional ride for one last time.