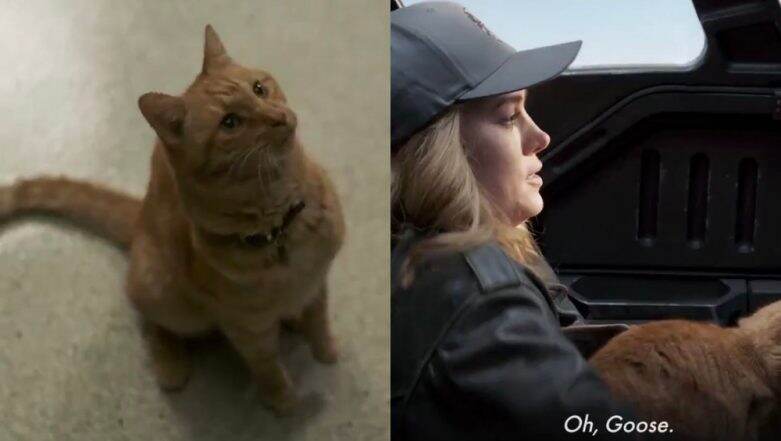 Goose The Cat from Captain Marvel is taking up every attention from the rest of the crew. And with the latest promo that they have dropped, we are certain that Goose is going to be the star of the film (no offence, Brie Larson!). Captain Marvel, Marvel's first female-superhero led film, is also the first film to have a pet as a sidekick. A sidekick who is too cute for words.
In the recent promo dropped by Captain Marvel, Samuel L Jackson and Brie Larson are seated speaking to the camera about a "perfect partnership". Jackson, who plays Nick Fury in the Marvel Cinematic Universe, takes the camera and says, "Effortless, enigmatic, fearless." A video montage of Captain Marvel walking towards the camera in her Skrull costume is showcased where she does look like all the words stated by Jackson. To this, Larson, who plays Carol Danvers aka Captain Marvel, adds, "Talented, refined, iconic." These words give Jackson the wrong impression that she is probably talking about him. But turns out Larson is talking about Goose, who is seated on the next chair.
Next thing you know, there are clips of Goose doing cat things on the screen as his role in the film is further explored. It is practically purrfect as Goose looks super cute doing cute things. Check out the video below.
Happy #LoveYourPetDay from #GooseTheCat! pic.twitter.com/kabs10ma6v

— Marvel Studios (@MarvelStudios) February 20, 2019
There are reports that speculate that Goose might be a Flerken, though no there is no official confirmation on the same. During one of the interviews, Jackson had quoted, "I've heard the cat referred to as a Flerken. I didn't know what that meant [at the beginning]. I vaguely have an idea now what that means." Set to release on March 8, Captain Marvel has so far received good reviews from Western critics.