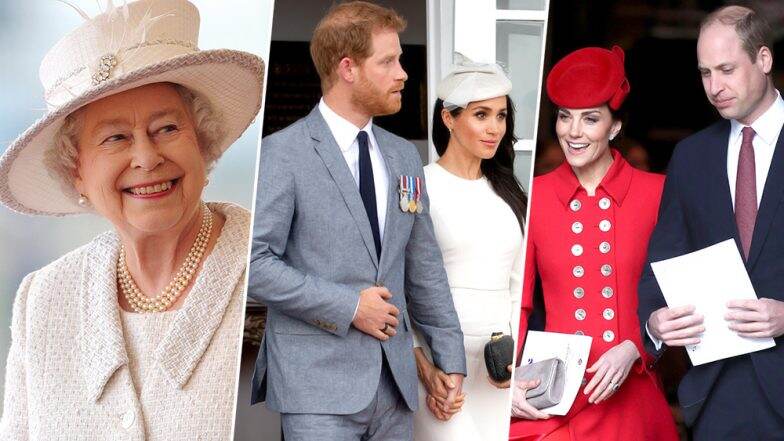 The split of the Cambridges and Sussexes have now become official. The Palace released an official statement that mentioned Prince Harry and Meghan Markle will get their own Royal Household and Queen Elizabeth has approved of it. Which means Prince William and Kate Middleton will remain at the Kensington Palace whereas Prince Harry and Meghan will move their household office at Buckingham Palace. The soon-to-be parents will also be getting a separate team. Meghan Markle's Pregnancy Glow Shines Through As She Goes on a Museum Date With Prince Harry (See Pics).
Royal reporter Emily Nash tweeted out saying, "The Queen has agreed to the creation of a new household for The Duke and Duchess of Sussex, following their marriage in May last year. The Household, which will be created with the support of The Queen and The Prince of Wales, will be established in the spring." Prince William and Prince Harry Reportedly To Split Royal Household Amid Rumours Of Meghan-Kate Feud.
Take a look at the statement released by The Palace:
Big update on the KP split tonight: pic.twitter.com/hjr5GdveqB

— Emily Nash (@emynash) March 14, 2019
Prince Harry and Meghan Markle are expecting their first child in spring this year. The royal couple's decision to move to the Frogmore Cottage sparked rumours that all is not well between the Fabulous Four (William, Kate, Harry, Meghan). It is also speculated that the feud between the Duchess of Cambridge and the Duchess of Sussex which has led to the split. Though the fab four had managed to make public appearances on special occasions, this announcement from The Palace has cleared the air.