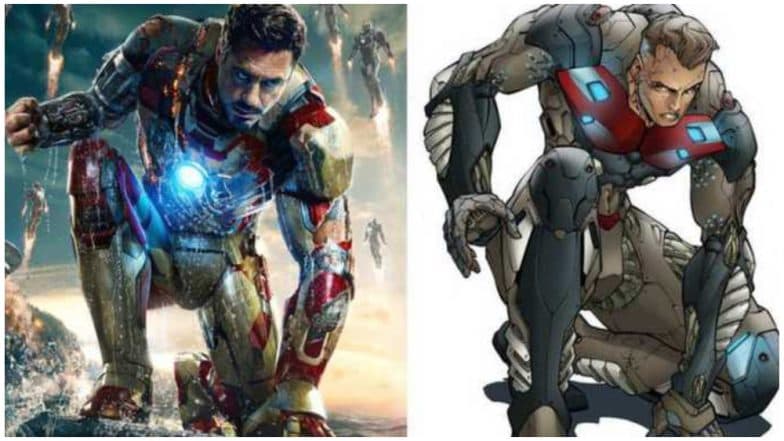 While everything was going hunky-dory for the Marvel Studios on the forefront, the legal team was dealing with a huge lawsuit against Iron Man 3. The Robert Downey Jr has been accused of lifting one of its promotional posters from the comic Radix, created by Ben and Ray Lai, for their brand, Horizon Comics Productions. The Iron Man 3 poster in question featured Robert's superhero character kneeling down on one, with a clenched fist. The lead character on the Radix comic also appears in the same pose. Today, the court gave its verdict in favour of Marvel Studios. Avengers Endgame: Robert Downey Jr Shares BTS Video of Iron Man and Spider-Man's Reunion in the Film and It is EVERYTHING!
U.S. District Court Judge J. Paul Oetken noted that no one working on Iron Man 3 could have known about Radix cover. "There is virtually no evidence in the record that shows any one of these individuals either would have seen the Caliban Drawing or would have been involved in the Iron Man 3 Poster design, let alone both. Horizon's arguments that these individuals could provide an access nexus is founded on nothing more than speculation," the Judge said. Tom Holland's Spider-Man: Far From Home Pays an Apt Tribute to Iron Man - Here's How.
Check out Iron Man 3 and Radix's side by side comparison here:
Marvel beats #copyright suit over "Iron Man 3" movie poster: https://t.co/UR0EeZ9lRK pic.twitter.com/wjXoRyNf68

— Law360 (@Law360) July 16, 2019
Also, experts were called in to compare the two images. The verdict by them was that while there are few similarities, there are enough differences between the two images to be deemed original. The court also noted that while Ben and Ray Lai's Horizon had no evidence of their work being copied, Marvel Studios produced more than enough proof to prove their work as original.
Robert Downey Jr played the role of Iron Man for the last time in Avengers: Endgame, which released earlier this year. The movie is on its way to becoming the highest-grossing movie ever at the global box office. If all goes smoothly, the movie will break the record of James Cameron's Avatar that it had kept under the belt since 2010.