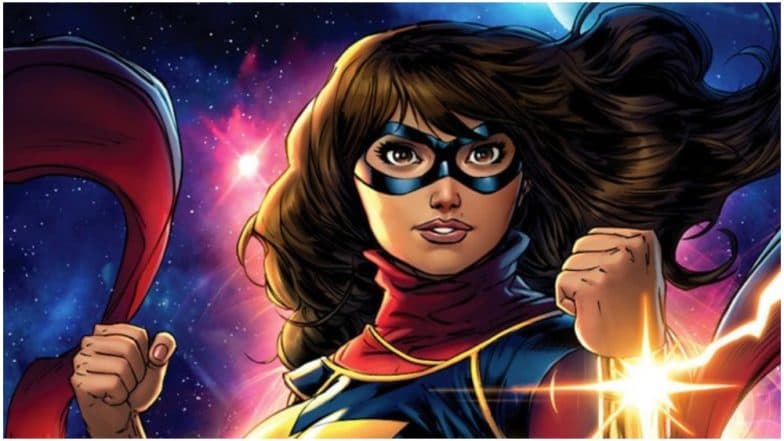 Well, we are going to have two female superheroes in the Marvel Cinematic Universe who have earned the moniker, 'Marvel'. While Brie Larson as Caral Danvers aka Captain Marvel rules the big screens, the MCU will soon introduce Ms Marvel for the small screen. At the recent D23 Expo which took place in California, MCU chief Kevin Feige announced that three more shows about three separate superheroes will be coming on Disney Plus. These shows - Ms Marvel, She-Hulk and Moon Knight will be a part of Phase 4. She-Hulk: All You Need to Know About the Marvel Superhero Who Makes Her Debut on Disney Plus.
Ms Marvel getting her own show is quite exciting, as it would make her the first Muslim superhero to get introduced in the MCU. Just a little trivia - at one point, there was a huge rumour that Priyanka Chopra would be associated with the role. Chopra might be a little older to play the role though (read ahead to know why).
Who is Ms Marvel?
Ms Marvel is a moniker shared by several superheroes in the Marvel comics, but MCU will focus on one Kamala Khan. The character is created by editors Sana Amanat and Stephen Wacker, writer G Willow Wilson, and artists Adrian Alphona and Jamie McKelvie. Introduced in 2014, the first volume of Ms Marvel had won the Hugo Award for Best graphic story in 2015.
What's so special about Kamala Khan is that she is the first Muslim superhero to have her own comics, and now she gets her own show too. So in the comics, Kamala Khan is a Pakistani American teen living in New Jersey, who idolises Carol Danvers aka Captain Marvel (so will we see Brie Larson make a cameo in the show?).
Kamala Khan has the genes of Inhumans in her, which gives her the powers of shape-shifting and super-healing. She became a part of the Avengers and Secret Warriors.
As for the show, while it is confirmed that Ms Marvel will stream on Disney +, the casting details and when it would stream has not been announced yet. So watch this space for more updates on Ms Marvel show.