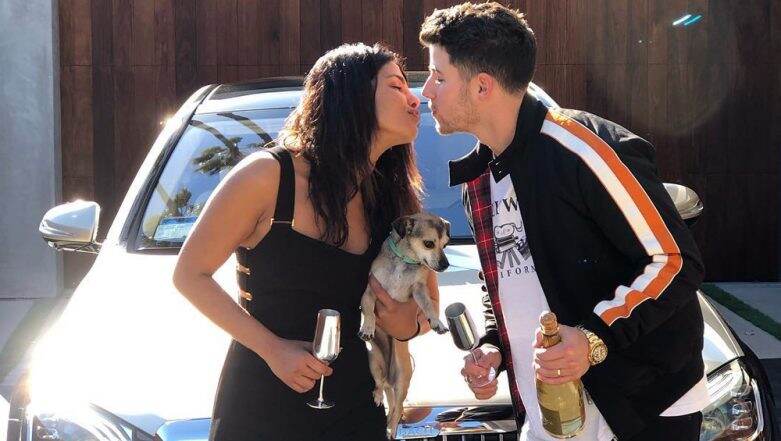 We all know that Nick Jonas has been throwing some amazing surprises for his ladylove Priyanka Chopra Jonas, even before they tied the knot. If you remember, he shut down a Tiffany & Co to pick up the most beautiful engagement ring. But the big question was popped when the couple was holidaying in Greece. This romance is no less than any fairytale. And now, after the magical wedding and the success of their recent song "Sucker", Nick Jonas has surprised his wife by gifting her a Mercedes Maybach! 'Sucker' BTS Video: Nick Jonas Shares a Lovable Note for Wifey Priyanka Chopra Jonas!
Yes, you read that right! Priyanka Chopra Jonas has received a Mercedes Maybach from her hubby dearest. Priyanka who is super happy to welcome the 'Extra Chopra Jonas', took to Instagram and shared the picture. She posted it saying, "When the hubby goes number one.. the wifey gets a @maybach !! Introducing.. Extra Chopra Jonas.. haha .. I love you baby!! Yaaay! Best husband ever.. @nickjonas". Priyanka Chopra Screams 'OMGeeee' As Jonas Brothers' Song 'Sucker' Hits No 1 on Billboard Hot 100.
If you haven't seen the beauty, then you must check it out now:
Jonas Brothers' reunion happened with a bang. They returned to the world of music with the song "Sucker" which also featured their better-halves. And it has not even been a month since the release of the song, and it has hit the Billboard Hot 100. And that was the reason why Nick Jonas decided to surprise his wife with such an amazing gift. What do you think of this awesome surprise?