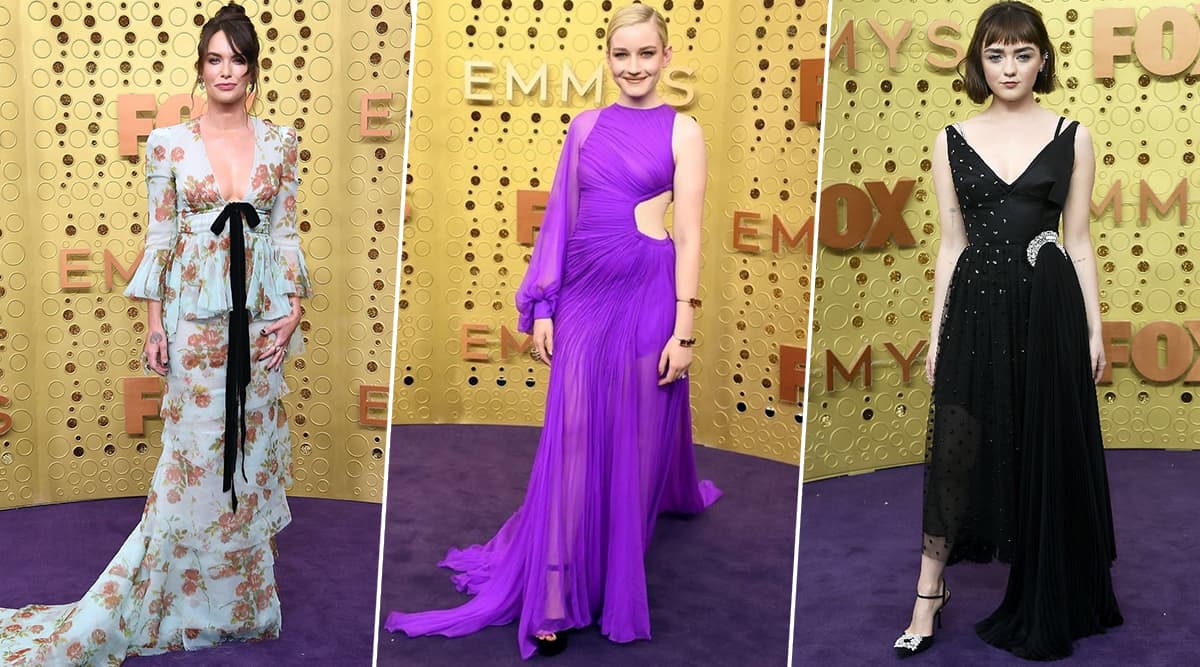 Okay, honestly, we wondered if Emmys 2019 will get predictable after Game of Thrones managed to grab 32 nominations in different categories. We even assumed if the show's lead stars will sweep the awards ceremonies with their numerous wins this year. However, as far as we are concerned, Emmys 2019 has turned out to be a rather surprising event with many surprising wins. Imagine Julia Garner from Ozark beating Sophie Turner, Maisie Williams and Gwendoline Christie (all from Game of Thrones) in the Best Supporting Actress Category for Drama Series! Emmys 2019 Best Dressed: Zendaya, Emilia Clarke and Kim Kardashian Take Home the Trophy for Ruling Purple Carpet this Year (View Pics).
Fans are clearly upset with this verdict as they cheered for Game of Thrones ladies to bag the honour this time. True GoT fans were rooting for Lena Headey and Maisie Williams to grab the honour as they rightfully deserved so. But seeing Julie Garner on stage and hearing her name as the winner has disappointed one and all. Don't believe us? Check out the tweets from angry and baffled fans below. Emmys 2019: Priyanka Chopra Sends Some Love and Luck to 'J Sister' Sophie Turner for her Game of Thrones Nomination.
  Maisie Williams deserved it!
I am sick. How did @Maisie_Williams not win?? I just can't even believe this nonsense. #Emmys2019

— Amie 🥀 (@Amie1923) September 23, 2019
Happy for Bill, Sad for Lena
well... THIS DIDN'T FUCKING WORK APPARENTLY (except for bill)#Emmys #Emmys2019

— tiz misses tyler and josh ⊬ (@odetokeons) September 23, 2019
We can read INJUSTICE
INJUSTIÇADA #Emmys #Emmys2019 pic.twitter.com/wWdVpQAAHV

— gabi (@kylieswz) September 23, 2019
You mean angry?
I'm slightly salty not one of my girls won Supporting Lead Actress lol #GameOfThrones #Emmys2019 #Emmys

— Analissa (@stonecoldsevern) September 23, 2019
Yup, how, why?
Me when Lena Headey didn't win....again.....How?....Why? #Emmys #Emmys2019 pic.twitter.com/iy9cwWf7PS

— Lolo (@Peacheslolo2) September 23, 2019
Kill us too?
Alexa, where is my pitchfork? #Emmys2019 https://t.co/9MP3d9UFDK

— Royaltyspeaking (@Royal_talk) September 23, 2019
No hard feelings
WORDS CANNOT DESCRIBE HOW BITTER I AM NOT ONE OF THE GAME OF THRONES LADIES WON SUPPORTING ACTRESS. IM SURE THE GIRL WHO WON IS ALSO GREAT BUT REALLY???? #Emmys2019

— Lover Laura 💕✨ (@Laura_Zisko) September 23, 2019
Nonetheless, as they say, 'may the best lady win'. Julia Garner's role is Ozark is truly remarkable and she rightfully deserves the honour. Though we loved Maisie Williams and Lena Headey truly, Julia deserves a round of applause for sweeping away their glory as a first-time nominee.