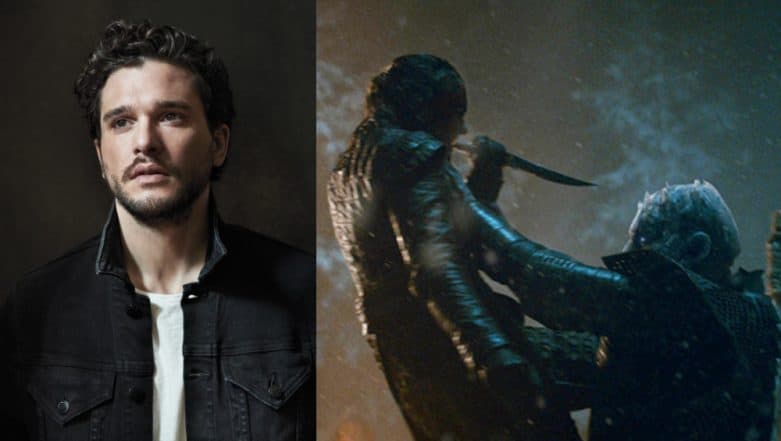 Are we over the finale of Game of Thrones? Not entirely, but you can say we are halfway there. Which is why got so excited to learn about Kit Harington's point of view towards one of the most iconic moments of GoT. Nah. One of the most iconic moments of TV history; the killing of the Night King at the hands of Arya Stark. For the entirety of GoT's run, it was established as if Jon Snow, played by Kit, will be the one who'd deliver the fatal blow to the show's zombie villain. But in a last-minute twist, Jon's sister Arya, played by Maisie Williams, killed the SOB. Game of Thrones 8 Finale: Emilia Clarke Reveals Kit Harrington Cried When He Learnt That Jon Snow Kills Daenerys Targaryen.
Of course, true blue fans of Jon Snow were disappointed that he was deprived of the opportunity. Turns out, Kit is rowing the same boat as the fans. "I was a bit pissed off, only because I wanted to kill the Night King! I think I felt like everyone else did, in that it had been set up for a long time, and then I didn't get to do it," Kit told The Hollywood Reporter. Kit Harington AKA Jon Snow Thought 'This Is How It Ends' After His Testicles Got Stuck While Filming an Important Scene in Game of Thrones 8.
"But I was so happy for Maisie and Arya," the actor continued. "I was secretly like, 'I wanted to do that!' Especially because I love fighting with Vlad (i.e. Vladimir Furdik), who also played the White Walker I fought at Hardhome. I've never seen a better swordsman. But it was a really great twist, and it tied up Maisie's journey in a really beautiful way,"
Watch Jon Snow Talk About Not Killing Night King In the Video Below:
but emilia vs kit's reaction to arya being the chosen one to kill the NK i- #GameofThrones pic.twitter.com/hvoFTeh53B

— 𝐉. (@livelovebread) April 29, 2019
This won't be the first time Kit has talked about his displeasure regarding not killing the villain. In the BTS video, released right after the conclusion of Game of Thrones, the actor said he "was pissed". Guess, Kit will also have to live with the lump in the throat just as the rest of the fandom of Game of Thrones. Join the club, Jon.