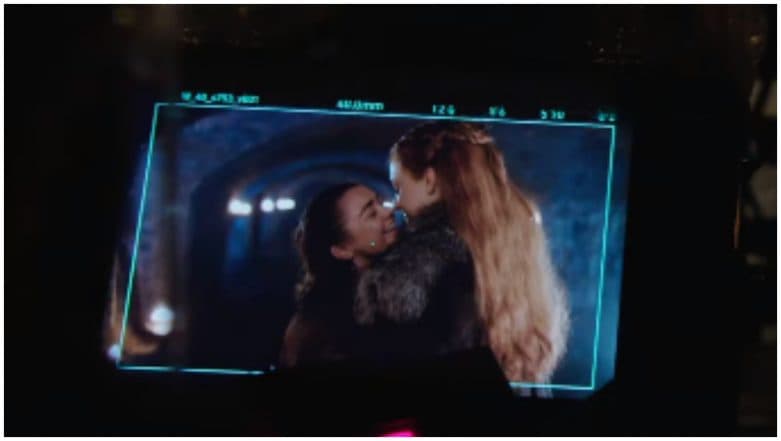 Game of Thrones ended its epic 11-year run in May.  The cast members - Maisie Williams, Sophie Turner, Kit Harington, and Isaac Hempstead Wright - reunited for a special which will be part of Game of Thrones: The Complete Collection Blu-ray release. The first promo of this much-required reunion was released today on the official YouTube page of Game of Thrones and we are stoked. Conan O'Brien helms the reunion and is seen in a very fun sounding conversation with the cast. The cast recounts their experience of filming the show for a decade. Game of Thrones Director Explains Why Daenerys Targaryen's Character Underwent Such a Drastic Change in the Finale Season.
The cast also sees what their younger selves looked like on the debut season of Game of Thrones. They all are pleasantly surprised. We also get to see a clean shaved, short-haired Kit Harrington. The studio audience breaks into a roar as Kit's footage is played. Wait, What? Game Of Thrones Makers Deleted Cersei Lannister's Miscarriage Scene from the Final Season, Actress Lena Headey Reveals Details.
Maisie and Sophie are on the same page in the reunion video. They both say that the best part of being on the show was working with each other. Sophie says that the best day on the sets was when she was reunited with Maisie in one of the later seasons. Then the behind-the-scenes footage of their reunion is played. Turns out, after the director said cut, the two actresses jokingly leaned in for a kiss. Well, we are absolutely not ready for another incestuous relationship on the show. Two were enough!
Check Out the Teaser of Game of Thrones Reunion Below:
"Game of Thrones means my 20s," Kit says in a confessional from the final season. "It was a decade of my life." Game of Thrones remains as one of the highest rated TV show of all time. The final season was not very well-received but it still managed to break numerous records. In the coming years, multiple spin-offs will be released by the makers.