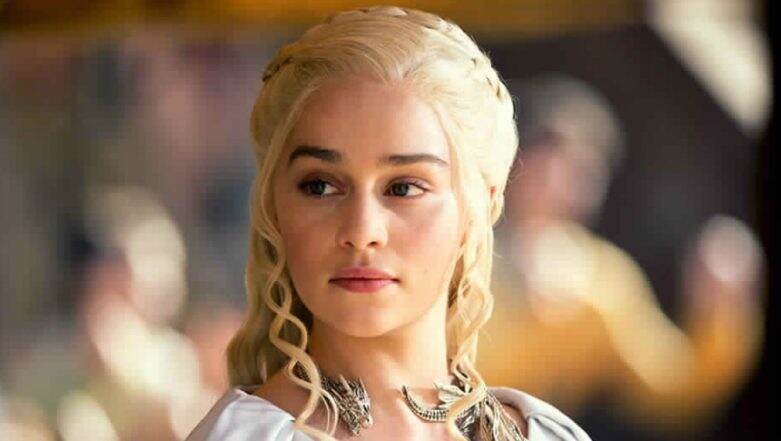 This week's episode of Game of Thrones was underwhelming. I am still trying to find a better word for disappointment and wonder if the writers were too lazy to come up with anything better. From Daenerys Targaryen's brutal decision to Cersei Lannister's death (so easily), every aspect of this fifth episode of season 8 was frustrating and annoying. It's sad for the makers decided to keep the worst for the last. No wonder the season is one of the lowest rated on Rotten Tomatoes and the margin is too huge to ignore. Game of Thrones 8 Episode 5 Recap: From the Rise of the Mad Queen to Major Deaths, Everything That Happened in 'The Last War' (SPOILER ALERT).
It was disheartening to see the mad side of Daenerys Targaryen, especially since she was determined to bring a 'good change' in the seven kingdoms. Yes, she was grieving from the loss of Rheagal and Missandei but claiming the lives of innocents was no solution to it. Twitterati is mighty upset with this new side of hers and some are even siding with Cersei, praying for her to survive. GoT makers are known for giving some abrupt twists to their script and this is exactly what we were dreading about. Game Of Thrones Season 8 Episode 5: Drogon Burns it All and Twitterati Thinks He Deserves the Iron Throne.
Check out the tweets by upset Twitter users who are calling out Daenerys Targaryen for her poor decision.
  Where's her legacy?
this is literally the episode that could possible destroy 8 years of Daenerys's character development and you're telling me it hasn't been leaked yet? y'all suck #GameofThrones #DaenerysTargaryen

— mad queen supporter 𖤐 (@gaywitchbiitch) May 12, 2019
Mercy, ya, right?
Didn't she just say mercy is her strength?! What have they done to her character. Eight seasons of the "breaker of chains" for this?! #DaenerysTargaryen

And now Jon is the hero?! come on please. #GOT #GameofThrones pic.twitter.com/SLFIn8tGsI

— سجية (@saj_hanif5) May 13, 2019
Excited for the finale? No more.
Well that was disappointing. 8 years of character development down the drain because of some fucking bells and some shitty writers. Not even gonna watch the finale. #GameofThrones #Daenerys #DaenerysTargaryen

— hazel™🌰 (@onomatophobiae) May 13, 2019
Yea, it's the writers' fault
Daenerys Targaryen,no matter what happens you will always be the queen I love and look up to.

You didn't deserve what these pathetic writers did to you my girl.

You didn't.#DaenerysTargaryen#GameOfThrones pic.twitter.com/5Sx6dvqoOY

— ᴀ s h i ⚖ (@OnlyBlackSheep) May 13, 2019
Like father like Daughter
Con ustedes, #DaenerysTargaryen: The Mad Queen#DominGOT #GOTS8E5 #GameofThrones pic.twitter.com/pYbjyZAHqo

— Juan Lizana (@JJLizana) May 13, 2019
She will die in the next episode?
#DaenerysTargaryen has to die next episode she has gone insane just like dear ol' dad

— Theycallmesachi (@animedir11) May 13, 2019
True!
How dare they wreck #DaenerysTargaryen like this? She was my fave! 😭

— Ana Karen (@anakcorreag) May 13, 2019
Disappointment
Congratulations you just destroyed your best character and don't even have enough time to take it back#DaenerysTargaryen #GameofThrones pic.twitter.com/Uk1HspBvb1

— clutch qween 🤞 (@laurieezee) May 13, 2019
We all were rooting for her
They did dany so dirty my poor baby#GamesOfThrones #DaenerysTargaryen pic.twitter.com/uspZIBwzjr

— dani (@gameofblinks) May 13, 2019
Her decisions were totally inspired by the death of her loved ones and it may be too soon to tag her as the Mad Queen. Yet, it's essential to see the stark difference between her own beliefs. From the one who wanted to get loved to the one who was fine with being feared, her character evolution definitely went for a toss in this new season. Let's hope the Iron Throne gets its rightful ruler (you know what we mean).