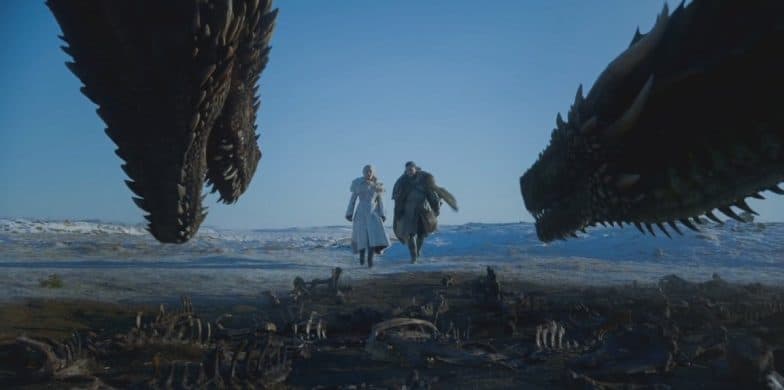 The trailer of Game Of Thrones Season 8 is upon us and if you're a fan you're probably biting your nails already. We have waited with bated breaths for this one and with what we have seen in this two-minute trailer, it is only going to get grittier and better. Season 8 is all set to premiere on April 14 and now all we can do is watch this trailer over and over again to decrypt those hidden clues. Have you chosen your side yet #forthethrone?
Well, the two-minute long trailer is quite something as it provides us some relief and a lot of unanswered questions. One of the most important questions that we were left with at the end of season 7 was whether Tormund Giantsbane, Beric Dondarrion, and Eddison Tollett survived at the Wall after it was attacked by the ice dragon. Well, we finally got the answer. Here's what the trailer of season 8 hints at. Game of Thrones Season 8 Trailer: The GoT Final Season Promo For The Big Battle Gives Us The Chills But No Big Surprises - Watch Video.
1. Tormund Giantsbane, Beric Dondarrion, and Eddison Tollett are all alive
During one scene in the trailer, we get a glimpse of Tormund Giantsbane, Beric Dondarrion, and Eddison Tollett which means they survived the attack on the wall. It will be interesting to see how they escaped Viserion after he tore down a part of the Wall.
2. Jon Snow will finally ride the dragon, embracing his Targaryen identity!
There are two important scenes in the trailer suggesting that Jon Snow (Kit Harrington) will be finally embracing his true identity as a Targaryen. At one point, he is seen with Daenerys (Emilia Clarke) in the crypts at Winterfell which is where he may have discovered the truth and stood before the statue of his mother Lyanna Stark. It is here that we see Dany comforting him. In the other scene, both Jon and Dany walk towards the dragons suggesting Jon will finally ride beside Daenerys after knowing he's a Targaryen after all! One big happy family picture we say!
Watch the trailer here:
3. Jaime Lannister is fighting for the North?
In the last season, we had seen Jaime Lannister (Nikolaj Coster-Waldau) leaving Kings Landing and looks like he's now officially chosen sides. The new trailer of Season 8 shows him fighting fiercely whilst saying the words, "I intend to fight for the living." Well, looks like he may join hands with Jon Snow and Daenerys Targaryen in the fight against the white walkers. Game Of Thrones Season 8 Character Posters Released: Look Out for New Costumes & The Return Of THIS Character!
4. Who is the mystery man in the shiny golden armor?
We are aware that Cersei Lannister (Lena Headey) sent Euron Greyjoy to get help from the Golden Company in order to hire mercenaries who could fight for the Lannister House in the Great War. At one point in the trailer, we see Euron's ships and hordes of men dressed in the golden armor while one of them is standing facing his back. We wonder who this new mystery character is?
5. Cersei guzzling wine with a smile. What happened to the pregnancy?
One of the most iconic scenes in the trailer undoubtedly belongs to Queen Cersei Lannister who seems to be the only person unperturbed by the horror that's coming. She's seen guzzling wine with her regular mean smile and we wonder what she's hiding this time. Of course, there's also doubt about her pregnancy status given that we don't see any baby bump either!
As always, the trailer is packed with clues to what lies ahead and could be giving birth to some new fan theories as well. There's still much talk about how we see very little of Bran Stark and nothing of the Night King, are the two connected as rumored after all? Well, we will certainly have to wait and watch as the season 8 premieres on April 14.