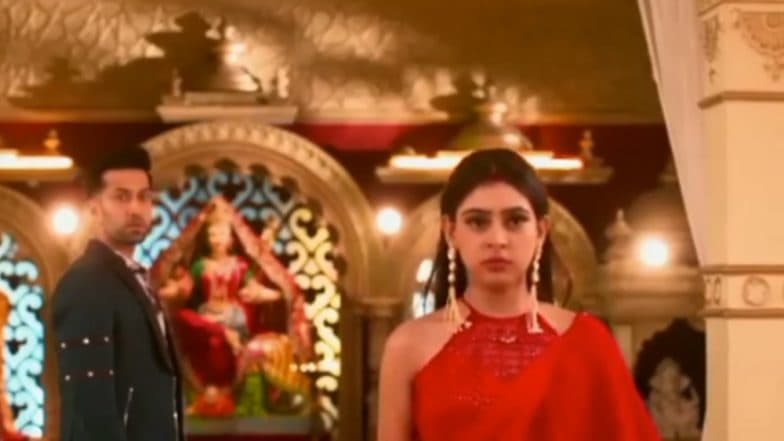 Today's episode of Ishqbaaz starts with Varun telling SSO (Nakul Mehta) that the pandit was real and says that his marriage with Mannat was a real one. PN calls out to SSO to come and sit beside Mannat as the muh dikayi function will start, they all give gifts to Mannat. PN questions SSO where is his gift? SSO says that he will give her the gift when they are alone and tells her to come up in the room.
In the room, he hands a flower vase and tells Mannat that she should get an award for best acting, SSO tells her that he had planned everything and that he had signed the contract with Sonia with fake marriage, fake bride and fake pandit but she turned it all by replacing them all by real ones and got married to the superstar SSO and ask what is her plan. Mannat tries to make him understand that she did not do anything. SSO tells she is telling all lies and says that let PN get well soon and then he will throw her out of the house. Mannat starts crying, SSO sees this ( jaaneh jah woo track is played in the background)
In the hospital, Sharda calls SSO and tells him that in the house someone is there who wants to kill him suddenly Varun hits Sharda by a stick on her head and she collapses. Varun thinks it was good that ACP Aditi had informed him about Sharda otherwise till now she would have told everything to SSO.
There SSO tells Khanna that Sharda had called and she wanted to tell him something and tell Khanna to go to the hospital and enquire. Mannat talks to Munni and is happy as she is safe. Mannat gets a call from Varun, he asks her did she talked with Munni and tells Munni is looking cute in the white dress and that his men are around her house and has kept an eye on her and Munni. Mannat is shocked and sees here and there around. Varun tells Mannat not to waste time and do the said work. Mannat goes to and takes the tracker and thinks why did the blackmailer told her to take out the batteries and throw and thinks for saving Munnu will she be harming someone's life. Mannat removes the batteries and thinks she can keep the original batteries and throw fake batteries and keeps the original batteries in her bag. Varun calls and tells to throw the batteries in the dustbin. Suddenly SSO comes and dashes with Mannat and scolds her and tells her to see before going anywhere. Mannat says sorry and goes from there. SSO sees the tracker on the table and thinks how it came here.
Mannat throws the batteries as told by Varun, he watches her throw it in the dustbin and feels happy. Khanna comes and tells SSO that Sharda has gone into Coma again. SSO gets tensed and asks him did he came to know what she wanted to say him. Khanna gets the doctor's call, he says SSO that for the heart transplant he got a match for him and that he is sending a consent form which should be duly filled and signed and send back to him so that he can start the procedure. SSO feels happy and Khanna gets excited and hugs him.
The ward boy from the hospital comes and hands over the consent form to be signed to Khanna, he takes it and keeps in a table, suddenly he sees a file and open it and thinks he has to get the sign in the advertisement papers along with it. Varun comes and signs the paper and ticks the area where it is written that he does not want a transplant, and swaps the paper from both the file then he calls Mannat and tells her to take the black file from the table and get it signed from SSO. Mannat comes and picks the file and reads it and comes to know that it is just an advertisement form and thinks she can take sign as it won't harm SSO. Varun feels happy that his plan has worked out and that now SSO won't be able to get his heart transplant done.
Khanna sees the file in Mannat's hand and tells her to give it to him and he will give it to SSO. PN comes with Mannat, SSO asks where was she and tells her to come and sit on the sofa. Khanna asks SSO to sign in the paper's, he signs the paper without seeing it. Dhruv teases PN as why is she holding a stick in her hand and make fun of her. Doctor Srivastav come and asks SSO why has he objected for doing the heart transplant, SSO is shocked seeing his sign in the consent form for not doing the operation. SSO tells that he only signed the papers of the advertisement contract, Khanna tells that he took that file from Mannat. SSO flashbacks everything and thinks Mannat has done all this.
In the precap, Varun tells Mannat to replace SSO's medicine with a fake one.