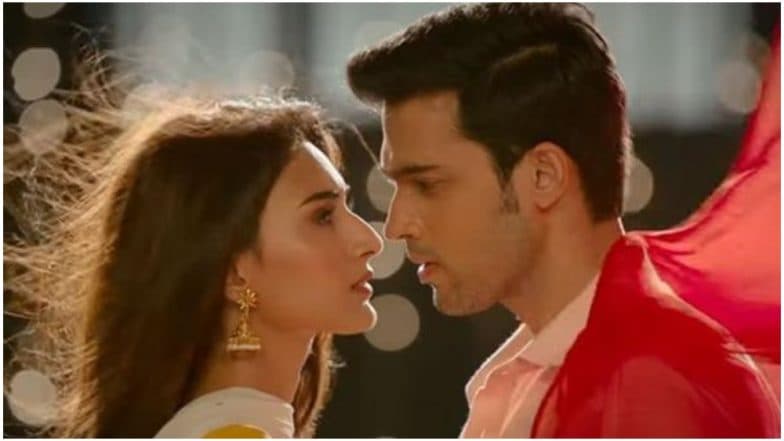 Today's episode of Kasautii Zindagii Kay 2 starts with Naveen telling Prerna (Erica Fernandes) to stop crying and tells that he had enough of hearing that he is a bad guy and tells Prerna that yes he is a bad guy so what, he sold his wife in London so what happened they were all his wife and he could do whatever he wanted with them. Naveen tells that Prerna that he loves her and he was not going to sell her to anyone then also she is saying he is a bad guy. Naveen tells that he wanted Prerna to get married to him and come with him to London to enjoy life but she is in love with Anurag Basu (Parth Samthaan) and tells Prerna that she is a selfish person. Naveen tells that now he will not request her to marry him, she herself will agree to marry him and the more time she takes to think the more he will torture Anurag and drags him and puts his face inside a drum which is filled with water. Prerna shouts and tells Naveen to stop this, but he says that she has to say it first that she is ready for the marriage and he will stop. Prerna tells that she is ready to marry him and tells Naveen to leave Anurag.
Naveen is marrying Prerna in front of Anurag who is saying not to do it and tells Prerna not worry about him and stop the marriage. Anurag is tied with knots and is not able to release himself. Anurag repeatedly tells Prerna not to marry Naveen. Anurag cuts the rope and fights with the goons, Prerna sees this all helplessly but could not do anything as Naveen is holding her. Anurag takes the fire in his hand and tells Prerna to come with him and takes her with him and locks Naveen and the goons from outside. Naveen and his goons are locked in the room and are unable to open it, so Naveen breaks the door and they all come out, suddenly the police come and take the goons with them. Meanwhile, Moloy and Rajesh come there and enquire about Anurag and Prerna, the pandit says that the boy had taken the girl and they left from here safely. On hearing this Moloy and Rajesh feels relaxed and happy. Naveen is hiding somewhere. Anurag and Prerna are going through the jungle road, Prerna hurts her foot and Anurag tells let us rest for some time. Anurag tells her that till he is there nothing will happen to her. Prerna tells that she is not worried about herself but cares for Anurag's life. Prerna tells Anurag lets not stop and continue walking. Anurag picks Prerna in his arms and walks (Ek ladki ku dekha tu aaisa laga track is played in the background)
There seeing Moloy, Mohini asks him where is Anurag why has he not come with them, Moloy tells her that no need to worry they will come soon. Mohini comes near Anupam and questions him as to why he did not tell her that Anurag was not at home. Moloy says that he had told Anupam not to tell Mohini as you will take tension and tells her to relax and that Anurag and Prerna are together and safe. Mohini worries thinking that Prerna and Anurag are together.
In the jungle, Prerna is sleeping and Anurag is admiring her. Prerna gets up and asks Anurag why did he not sleep, Anurag, jokes and tells there are no A.C and lots of mosquitoes around. Prerna tells sorry to Anurag as because of her he is facing lots of problems. Anurag tells that he was observing her and thinking that what did Naveen saw in her that he came back in her life, what is so special in her, is it her hair or is it her eyes he is attracted towards. Prerna tells Anurag why in the morning he is taking Naveen's name.
There Naveen with the goons are searching in the jungle for Anurag and Prerna, Naveen tells them that he will find them anyhow. Naveen tells his goons that there is a temple between the road and might be Anurag and Prerna have gone there.
Anurag is telling Prerna why should they not talk about Naveen yesterday only they had met him and that they can't forget so soon this all. Anurag tells that our past teaches us some lesson so that we won't repeat our mistakes. Prerna thinks that her past as thought her that she wants a life partner like who is standing in front of her now and admires Anurag. Prerna tells Anurag let us move from here.
Naveen and the goons come in the place where Anurag and Prerna were there till now. Anurag tells Prerna to stop for a while and tells her he will bring some medicine from the woods as he was a biology student and have some knowledge about it (pal ek pal mein ku hi gaya track Is played in the background) Anurag sees a temple and tells Prerna that let us go there and he will put the ointment there and takes her holding her.
Komolika calls Naveen and asks where is Anurag, the police control gets the call traced and find out where is Naveen. Naveen is telling Komolika that Anurag has taken Prerna with him and that he will find them both and tells that they are in the jungle and that he will find them and kill Anurag and disconnects the phone. Komolika shouts and tells no……
In the precap, Anurag and Prerna are in the temple, Anurag is promising her that no one can make them apart.