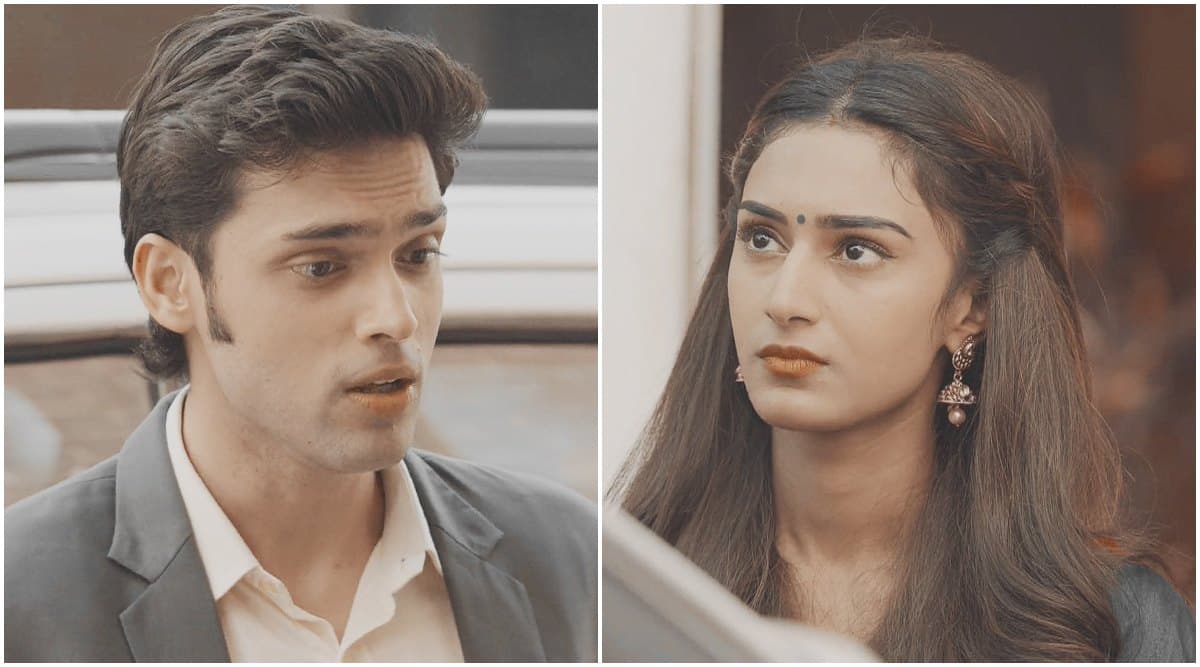 In yesterday's episode of Kasautii Zindagii Kay 2, we saw Shivani and Prerna enter Ronit's house to find out Sonalika's true identity. Shivani gets caught by Ronit but manages to leave by lying to him about her hidden feelings for him. In tonight's episode, we will see Shivani confirm to Prerna (Erica Fernandes) that Sonalika is indeed Komolika. Shivani tells her that they should leave before they land in more trouble. Prerna decides to confront Sonalika (Aamna Sharif) before leaving the house and goes to meet her. Kasautii Zindagii Kay 2 November 26, 2019 Written Update Full Episode: Shivani Reveals Sonalika's Truth to Prerna!
In the Basu house, Anurag (Parth Samthaan) is busy with his work. While working he gets Prerna's resume and goes through it. When Anurag sees that Prerna's favorite destination is Switzerland he gets flashes of their past together. At Ronit's engagement party, Prerna sees Sonalika talking to her brother. Sonalika takes Ronit inside a room and Prerna follows them. Prerna slaps Sonalika and tells that she knows her true identity. Ronit tries to defend Sonalika. Prerna confronts her and tells that she will tell everyone about her truth.
At first, Sonalika denies that she is Komolika. She says that she is Ronit's to-be wife's friend. But when Prerna continues to accuse her Sonalika loses her cool and divulges her true identity. Sonalika says she came back for revenge from them all. She challenges Prerna and tells her that no one will believe her. Sonalika tells Ronit that Prerna should not leave this house alive. Kasautii Zindagii Kay 2 November 22, 2019 Written Update Full Episode: Anurag Saves Prerna Yet Again And Ruins Komolika Aka Sonalika's Plans
Ronit tries to kill Prerna. Shivani sees Sonalika coming out of the room and senses something is wrong. Shivani goes inside the room and hits Ronit on the head and saves Prerna. Komolika sees Shivani and comes inside. Prerna pushes them both aside and runs outside. Komolika and Ronit follow Prerna and Shivani to their car. Komolika tries to attack her from behind by ramming her vehicle into theirs. Prerna says they have to reach Basu Mansion before they get caught by Komolika or Ronit.
Komolika takes a short cut to reach Prerna's car. Prerna sees Komolika coming straight towards them and backs her car. Komolika hits Prerna's car from the front. Prerna and Shivani get out of the car. Shivani calls an auto and tells Prerna to go to Basu's house while she asks help from someone. Komolika comes and hits Shivani with a stick. Shivani faints and falls down.
Prerna reaches Basu Mansion and tells Mohini that Sonalika is Komolika. Mohini is shocked to hear it. Just then Komolika comes in and says that Prerna is telling all lies as she wants to separate Anurag from her. Mohini also takes Sonalika's side and they both confront Prerna as to why she wants to disturb their lives with her fake stories. Kasautii Zindagii Kay 2: Mr Bajaj To Be Reintroduced, Will It Be Karan Singh Grover Or Someone Else?
Prerna tells that she will tell the truth to the person who trusts her the most and that is Anurag and goes upstairs. Mohini and Sonalika try to stop her but she manages to go. Prerna goes to Anurag's room and locks the room from inside. Anurag sees Prerna and asks her what is wrong? Prerna asks him if he trusts her. Anurag says he has full faith in her.
Prerna holds Anurag's hand and reveals to him that they love each other. Prerna tells Anurag that Sonalika is Komolika. Hearing the name Anurag feels he knows this name and goes in flashback. Prerna reminds him of the past and how they got separated. In the precap, Anurag throws Komolika out of the house. Anurag faints and falls down. Nivedita blames Prerna for his condition.