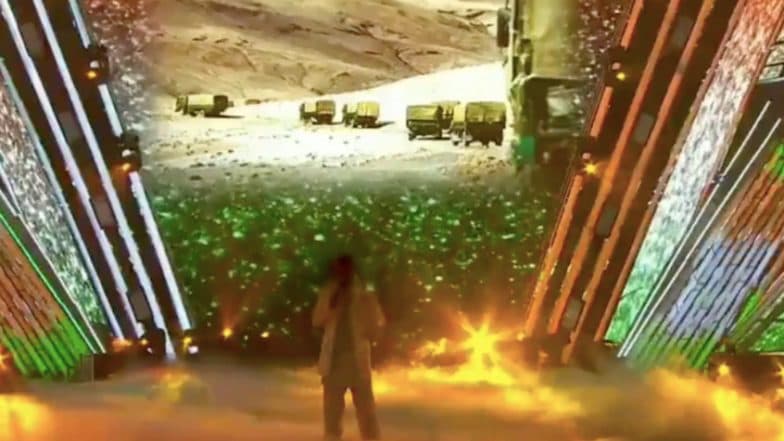 Star Plus is currently airing the popular singing reality show 'The Voice India 2019'and the with every episode, the singers are impressing everyone with their amazing talent. Saturday (March 16) episode was even more special given that it was the grand gala night. The performances of the show were saluting our brave soldiers and it truly was a special evening. Contestants from Harshdeep Kaur's team put up their performances today and as always, it was Anikait who stole everyone's heart.
The talented singer took to stage to croon one of the most loved songs from the film Border, "Sandese Aate Hai". With his beautiful voice and the emotional atmosphere that was caused whilst remembering our bravehearts, the judges couldn't hold back their tears for the performance. Singer Kanika Kapoor broke down after being thoroughly touched by Anikait's performance.
Watch Kanika Kapoor get emotional listening to Anikait's performance:
#Anikait's voice has moved everyone on #TheVoiceOnStarPlus!

RT if it touched your heart too!@arrahman @TheKanikaKapoor @AdnanSamiLive @HarshdeepKaur @ArmaanMalik22 @Divyanka_T pic.twitter.com/l9viGAdIc7

— StarPlus (@StarPlus) March 16, 2019
The singer who hails from Jammu and Kashmir is known to perform without revealing his face. It was previously revealed that he is afraid that his singing reality show stint may put his family back in Kashmir into problems for participating in an Indian show. We appreciate how despite the circumstances, the singer is ready to follow his passion and present his talent to the world through the reality show. With Saturday's performance, Anikait not only impressed the judges but even had Twitterati talking about him. The Voice India 2019 New Promo: When the Jammu and Kashmir Singer Aniket's Blind Face Performance Wowed Judges – Watch Video
Here are some of the tweets about Anikait's incredible performance:
✌️💕What a start with this soulful voice of #Anikait from #TeamHarshdeepKaur thankuhh so much @HarshdeepKaur mam for this song really loved this... #Jaihind #jaiho #HarshdeepKaur #TheVoiceOnStarPlus The best episode of the seoson really loved it ❤️😍🙏🙏 @StarPlus pic.twitter.com/qw7oWNqexR

— harshdeep kaur maniac (@ohana_alza_) March 16, 2019
A viewer of the show tweeted:
Right ,anikait's voice has touched everyone's heart

— ChaleAana Amaalian Ananya 💙💙🎶 (@ananya23878485) March 16, 2019
A fan from Jammu and Kashmir tweeted:
Love from JAMMU and Kashmir

To Anikait And #TheVoiceOnStarPlus

❤️❤️❤️❤️

— _mohitt_ (@iam_mohitt) March 16, 2019
It truly seems like music can bring people together. The love that this contestant is receiving online is proof of that.  Divyanka Tripathi To Make Her Hosting Debut With Star Plus' The Voice India Season 3!
This is the Season 3 of the popular singing reality show Voice India. The show is currently judged by Adnan Sami, Armaan Malik, Harshdeep Kaur, and Kanika Kapoor.