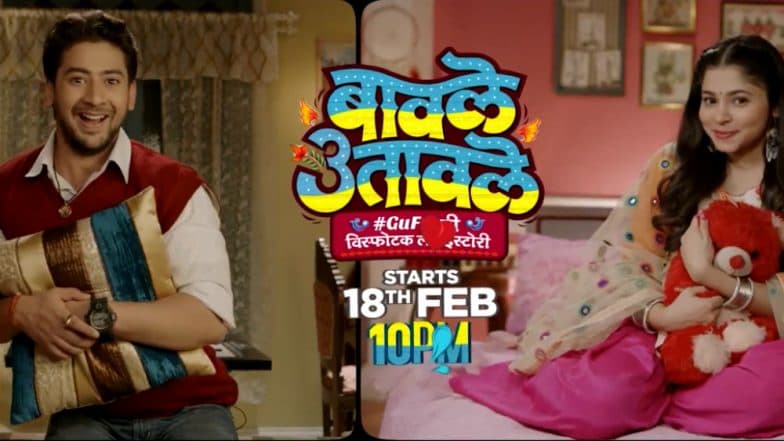 Director's Kut productions is back but this time on SAB TV with a comedy show titled Baavle Utaavle. The show stars Paras Arora, Shivani Badoni, Vaibhav Singh and Veena Mehta in the lead roles and is a comedy show set in rural Madhya Pradesh, which aims to showcase every facet of human relationships, be it comedy, romance or family drama, the show presents it in a unique manner. 10 Years of Yeh Rishta Kya Kehlata Hai: Rajan Shahi Reveals An Interesting Detail About The Decade-Old Show!
Ask producer Rajan Shahi about the show and he quips, "The show highlights the journey of two curious adults from a small town. There, the youth have just one goal, to find love and get married. Baavle Utaavle is the story of Guddu and Funty who are desperate to meet their soulmates and explore companionship. Incidentally, they meet each other for the first time under their bhaiya and bhabhi's suhaagrat bed and fall in love!"
Ask him about the USP of this show, considering there already are several comedy shows on the tube and the producer reveals, "Baavle Utaavle is a complete family entertainer but seen through a different lens and that's its biggest USP. The characters have a lot of innocence. The reactions are not very guarded. The way the story is presented is interesting."
Rajan Shahi also reveals that the show will also throw light and focus on social issues. "We are touching social issues as well. This show will inspire and aspire the audience and at the end of every episode, you will have teary eyes. I am looking forward to this collaboration with SAB channel - a first for me as well," he says. Yeh Rishta Kya Kehlata Hai Actress Mohena Kumari Singh Gets Engaged; Co-Stars Shivangi Joshi and Mohsin Khan Attend The Do In Goa! View Pics
All praises for his cast, the proud producer reveals, "We wanted to work with new talent in this show and casting was a major challenge as the show is character-driven. So, we were looking for committed actors who would look and play the characters well. The cast is a beautiful mix of new and seasoned talented theatre actors. Paras Arora has done a good amount of television work but here we are presenting him in a different way."
Watch the promo of the show below:
The show is all set to premiere on February 18 in the 10 pm slot. Promos of the show do seem pretty interesting. Are you guys going to watch the show? Do let us know.