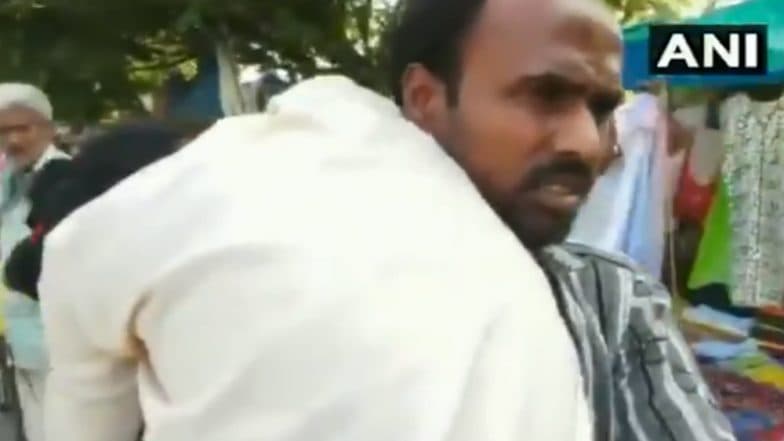 Uttar Pradesh, May 8: Remember Dana Majhi, the poor Odisha tribal who shook people's conscience as he walked 10 kilometres with his dead wife's body on his shoulders because the district hospital where the ailing was admitted had no hospital. This time another shocking incident of medical apathy has come to the front, where a man from Badaun in Uttar Pradesh carried his wife's dead body in the absence of a hearse van.
According to a report by ANI, the man pleaded with the tempo drivers to drop the body home as the district hospital denied him a hearse. Reportedly, the hospital authorities have denied the allegations and have said that the hospital has two hearse vans and anyone who asks for it, will get it. The Chief Medical Officer has ordered an inquiry into the matter and as quoted in ANI says, "Got to know of it through media, it is condemnable, but we have two hearse vans, which are provided to whoever asks for it. I'll look into it and punish those at fault."
#WATCH Badaun: Man carried wife's dead body on his shoulder in the absence of a hearse van, yesterday. Chief Medical Officer has ordered probe into the matter pic.twitter.com/5GXQ5SxBbU

— ANI UP (@ANINewsUP) May 8, 2018
Last month, another case of medical negligence was reported, where an aged woman had to be carried to the hospital for treatment on a cot due to alleged unavailability of an ambulance. 70-year-old Manjit Kaur, a native of Bhedpur village in Shahjahanpur was taken to the hospital on a cot after an ambulance refused to come to her help citing lack of fuel in the vehicle. Several incidents get reported every year, in spite of the state government reportedly ordering health departments to ensure that the dead are treated with dignity and respect. These incidents make us question that is there really any place for the poor in the country?