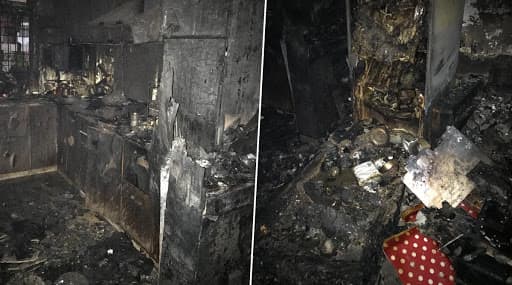 New Delhi, December 14: In a sad incident, a major fire broke out at a house in Shalimar Bagh area of the national capital on Saturday at around 7:30 pm. Sources say that the fire took place in a building at BQ block in Shalimar Bagh. As per the ANI sources, Reports state three women have lost their lives in the fire while six people were rescued from the blaze, including three children.
According to the eyewitnesses, the fire broke out started on the ground floor of a three-storey building -- BQ block -- in Shalimar Bagh at around 7:30 pm. Soon after the fire, the fire tenders reached the spot and the firemen rescued some people in the upper floors including some unconscious children. They were then sent to the hospital immediately. Though the fire has been doused, the reason of the fire is yet to be ascertained. Delhi Fire Tragedy: Anaj Mandi Building Owner Rehan, Manager Arrested by Police After Blaze Kills 43.
Here is the ANI tweet:
#UPDATE Fire that broke out at a house in Shalimar Bagh, Delhi has been doused. Six people, including three children have been rescued so far. https://t.co/a0tQpWe0bO pic.twitter.com/8NZK0QqGrn

— ANI (@ANI) December 14, 2019
Earlier on December 8, a major fire in Anaj Mandi building killed at least 43 workers, where most of the people died due to suffocation. Acting immidiately, Delhi Police arrested the owner of the factory and Anaj Mandi building. The The owner of the factory has been identified as Rehan. A case has been registered under section 304 of Indian Penal Code (IPC) against him. The manager has also been arrested.
Following the major incident, Chief Minister Arvind Kejriwal said it is a tragic incident and said firemen were doing their best. Bihar chief minister Nitish Kumar announced a compensation of Rs 2 lakh for the family of those workers killed who hailed from the state in the Delhi fire factory.