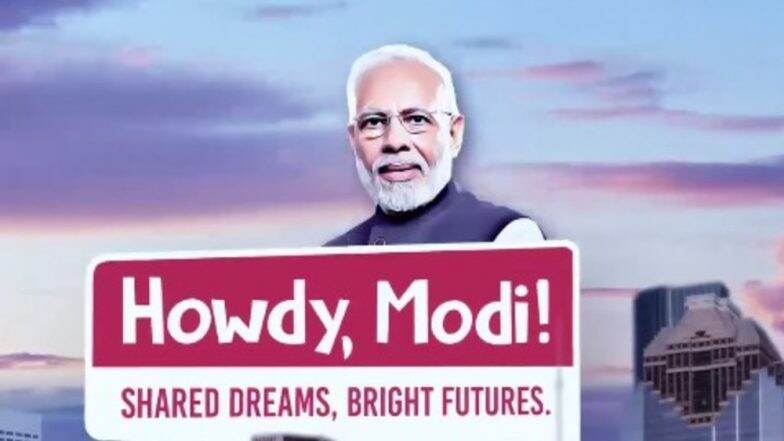 Houston, September 21: The Indian-America community are all set to welcome Prime Minister Narendra Modi for the mega meet in Houston, "Howdy, Modi!". Over 50,000 people are expected to attend the event, making it the largest gathering ever for an elected foreign leader visiting the United States, other than Pope. The "Howdy, Modi" event in which US President Donald Trump with join PM Modi is being organised at sprawling NRF Football Stadium. Howdy, Modi Event: PM Narendra Modi Tweets Saying US President Donald Trump's 'Special Gesture' of Offering to Join Him in Houston Highlights Strong India-US Ties.
The three hour event will be the significant boost to India-US ties, as it the first time that PM Modi and President Trump will be addressing a joint event. This would be the third meet between Indian Premier and US President within few weeks after G20 and G7 summits. Here's everything you should know about the "Howdy, Modi!" event.
What is "Howdy, Modi!" and Theme?
Howdy, a short form of 'How do you do?', is an informal greeting commonly used in the southwestern US. "Howdy, Modi!" is a community summit hosted by the Texas India Forum (TIF) for PM Narendra Modi. The theme for the mega event is "Shared Dreams, Bright Futures" to highlight the contribution of Indian-Americans in enriching the US in the last seven decades.
Date and Time in India
The "Howdy, Modi!" event on Sunday, September 22, 2019, will be three hours long- 8:30 pm IST (India Standard time) to 11:30 pm IST. The event will include various cultural programs, followed by PM Narendra Modi's address.
Speaking about the event, PM Modi said, "The USA visit begins with a wide range of programmes in Houston. I would be interacting with top energy sector CEOs, various groups of Indians based there and top-ranking leaders of the USA. The programmes in the energetic city of Houston will surely add greater energy to our ties."
On Sunday, the 22nd at 10:15 AM local time there would be a large community programme in Houston. We are honoured that @POTUS @realDonaldTrump is gracing the programme with his presence. This gathering would be a new milestone in India-USA ties. #HowdyModi

— Narendra Modi (@narendramodi) September 20, 2019
Meanwhile, the "Howdy, Modi!" event in Houston, Texas event will be PM Narendra Modi's third major address to the Indian-American community after he became the Indian Premier in 2014. The other two events were at New York's Madison Square Garden in 2014 and the Silicon Valley in 2016.