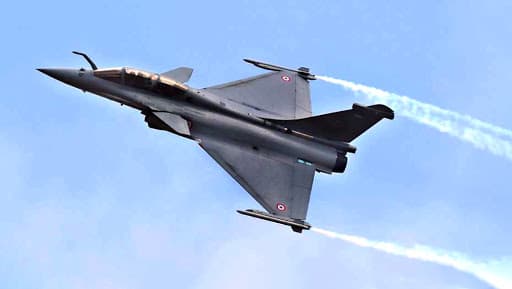 New Delhi, July 8: With Finance Minister Nirmala Sitharaman done with announcing the Union Budget 2019 in parliament, Indian Air Force is mulling finalising two long-pending mega 'Make in India' projects worth about Rs 1.5 lakh crore ( USD 22 billion). Though the Tata-Airbus consortium's project for 56 medium transport aircraft is set to take off this year, other projects of acquiring 114 fighter jets will take several years to reach that stage.
As per expectations, the IAF is set to receive the first four Rafale fighters in France in September this year. In the previous tenure, Narendra Modi government signed the Memorandum of Understanding (MoU) with France under the Rs 59,000 crore deal for 36 such jets in 2016. Now the ruling dispensation is mulling Request For Proposal (RFP) in the 114-fighter project to be issued by late-2019 or early-2020. Rafale Deal Row: French Minister JB Lemoyne Clears Air, Says 'Don't Bother About Controversies, We Just Want to Deliver'
A source in the Union Ministry said, as reported by The Times of India, "The 114-fighter project is crucial because the 36 Rafales and the indigenous Tejas light combat aircraft (only 16 of planned 123 jets inducted till now) will not make up for the fast depleting numbers (IAF is down to just 30 fighter squadrons when 42 are required). There is an urgent need to plan for the future."
According to the planned scheme, 36 Rafale jets would constitute two squadrons of IAF and are expected to be delivered by September 2019-April 2022 timeframe. Among the 36 metal birds - armed with deadly Meteor and Scalp missiles - four would touch Ambala airbase only in May next year, following the training of the IAF induction team of 10 pilots, 10 flight engineers and 40 technicians in France. Sukhoi-30 MKIs of IAF Likely to be Equipped With I-Derby Extended Range Missiles BVRAAM: Reports
Considering an upgrade in IAF, apart from Rafale jets, F/A-18 and F-16 (US), MiG-35 and Sukhoi-35 (Russia), Gripen-E (Sweden) and Eurofighter Typhoon are on the list for acquisition for 114-fighter project worth over Rs 1.25 lakh crore under the defence ministry's 'strategic partnership' model.
It is to be known that Tata-Airbus joint venture for 56 twin-turboprop tactical C-295 aircraft - valued at Rs 11,929 crore - is almost final and are expected to replace IAF's old Avro aircraft, first inducted in the early 1960s. These C-295 aircraft would also perform the tasks of ageing AN-32 fleet, as per the daily's report.