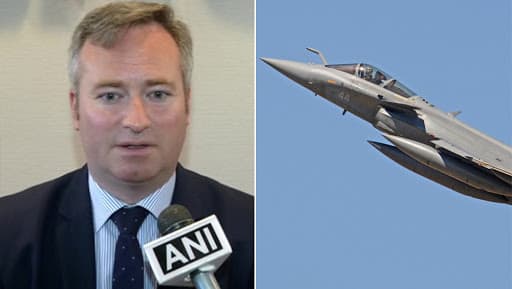 Paris/New Delhi, June 10: With several months of Congress attacking the NDA-led Union government over financial discrepancies in the biggest defence deal of Rafale Jets, French Minister Jean Baptiste Lemoyne commented on Monday that they don't bother about controversies and just want to deliver the jets.
Stating the Rafale Jets deal is a tool for better sovereignty for India and would build diplomatic relations between the countries, the MoS for Europe & Foreign Affairs of France said, "French govt doesn't care about controversies. We just want to deliver; it's in the national interest of the two countries. We want France & India to be more sovereign & Rafale is a tool for better sovereignty for India." IAF Team to Visit France to Probe Possible Data Theft During Rafale Office Break-in
The French Minister added that President Emmanuel Macron and Indian Prime Minister Narendra Modi have a strong relationship personally and there's a lot of mutual respect. On the attempted break-in into Indian Air Force Rafale Project Management Team in Paris last month, he said, "Investigation is going on, Indian authorities would be updated when new details would be provided to us."
It is to be known that France played an instrumental part in recent designation of Jaish-e-Mohammed (JEM) chief Masood Azhar as a global terrorist. Both the nation had worked closely to get Azhar designated as a global terrorist after the dastardly terror attack in Pulwama of Jammu and Kashmir on February 14, this year.
On the other side, Congress president Rahul Gandhi had been vocal against the awarding contract to Anil Ambani-led Reliance Defence. Gandhi had also alleged corruption of over Rs 30,000 crore. The allegations were quashed by the NDA-led Union government from time to time.