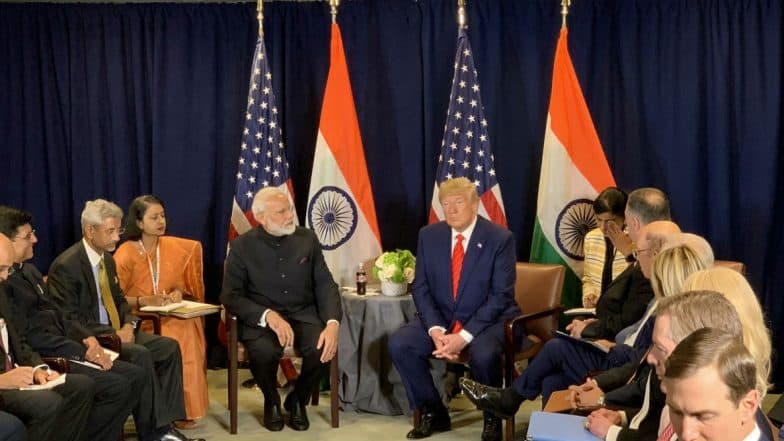 New Delhi, October 7: India and the United States are close to finalising a trade deal, which would be announced in a few weeks. India and the US have managed to iron out differences on contentious issues and are assessing gains in terms of duty benefits and trade volume. The two countries are exploring the possibility of unveiling of the impending trade deal during the next meeting between PM Narendra Modi and US President Donald Trump. Forgoing Trade Deal Between India, US Will Force America to Consider Alternatives: USISPF.
India and the US have reportedly agreed to allow more goods to be shipped from both the countries and to cut import duty on contentious items, including high-end bikes like Harley-Davidson. Indian mangoes and pomegranates may get easier access into the US. Similarly, India has assured to address American concerns over import of alfalfa hay. Besides, the two countries have reached an understanding on high-end, patented and innovative heart stents and knee implants. Donald Trump Says 'Tariff King' India Wants Trade Deal With US 'Immediately'.
As part of the yet-to-be-finalised deal, the Trump administration to provide preferential duty benefits for some Indian exports under the Generalised System of Preferences (GSP) programme, Times of India reported on Monday. Last week, US Secretary of Commerce Wilbur Ross said that he does not see any structural reason which might stop both the nations to have a trade agreement "pretty quickly".
"Neither government said that there will be a trade deal in five minutes. That was not us, wasn't (Commerce) Minister Piyush Goyal. So, I think that was just speculation. We do think that there is no structural reason why there can't be one pretty quickly. We know each other's issues," Ross had said in response to a question about the proposed trade agreement between India and the US.
India's Commerce and Industry Minister Piyush Goyal has echoed similar views. "So it is more of a question of scheduling time and scheduling calls and meetings that will determine how long that will take. But I don't see any big issue that is holding it back for any reason," Goyal had said while speaking at the Indian Economic Summit.