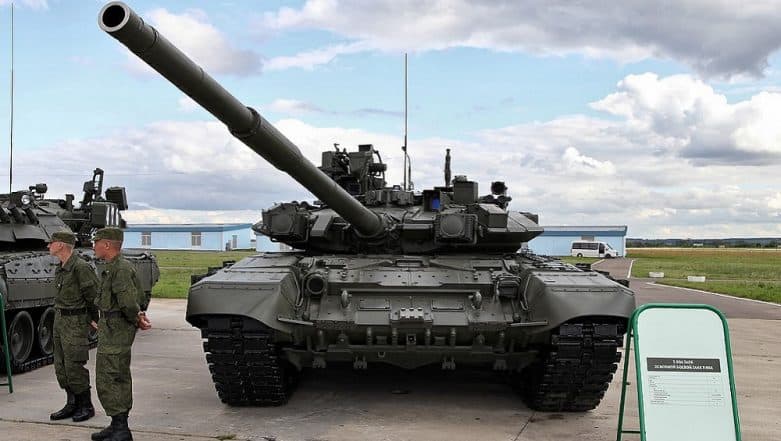 New Delhi, May 7: The Indian Army will induct 464 Russian-origin T-90 MS battle tanks, at the cost of Rs 13,448. These tanks will be supplied to the Army between 2022 and 2026, reported The Times of India. The T-90MS are ugraded version of T-90 'Bhishma' tanks. The news of procurement of T-90 tanks came days after reports surfaced that Pakistan was also planning to purchase T-90 tanks from Russia. Cabinet Committee on Security Clears Acquisition of T-90MS Tanks From Russia.
According to the report, the "indent" to produce the 464 T-90 tanks would soon be placed on the Avadhi Heavy Vehicle Factory (HVF) under Ordnance Factory Board. The cabinet committee on security had already cleared the licence acquisition from Russia almost a month ago. The entire process will be a part of the Indian government's 'Make in India' programme. Indian Navy to Get 16 Anti-Submarine Warfare Shallow Water Crafts; Defence Ministry Signs Second Contract.
After the procurement, the new T-90 regiments will be increased by 10 more units. These tanks will be equipped with thermal imaging night sights which will be helpful during the night battles. Meanwhile, the Indian Army already has 18 regiments of T-90 tanks. Currently, these tanks are deployed in Rajasthan and Punjab on the western front with Pakistan. The India Army has over 4,000 tanks including over 1,000 T-90 tanks. The Army also has 2,400 older T-72 tanks in its 67 armoured regiments. The Army also has 124 Arjun Mark-1 tanks.
Last year, India also signed a $5 billion deal with Russia to procure S-400 advanced air defence system. The deal was signed during Russian President Vladimir Putin's visit to India to take part in the 19th India-Russia Annual Bilateral Summit. In November 2018, India also finalised $500 million deal with Russia to build two stealth frigates in Goa that are expected to be delivered by 2027. Meanwhile, in October last year, India had signed a $950 –million with Russia to purchase two new warships equipped with Brahmos missiles for the Indian Navy which will be delivered by 2022.