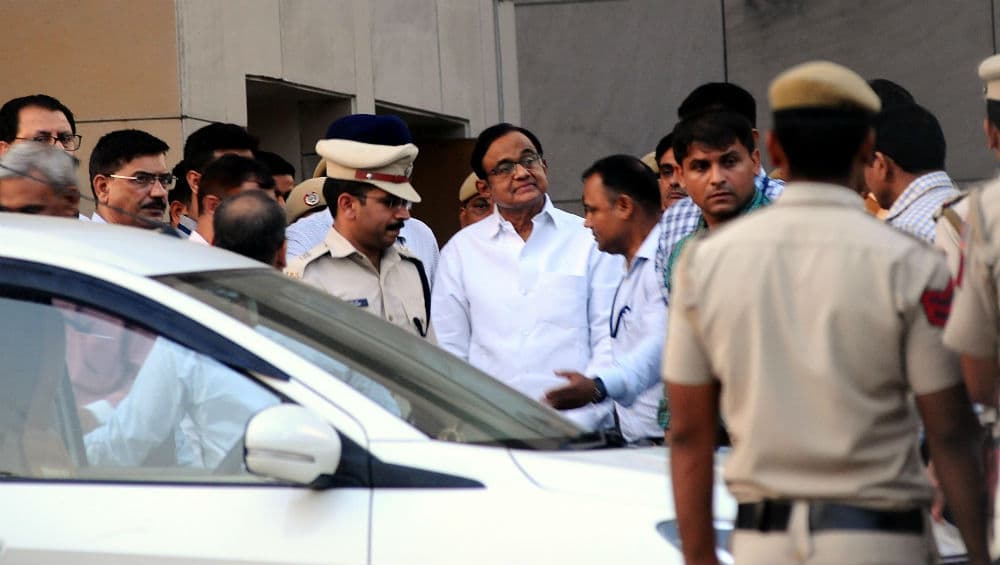 New Delhi, November 1: The Delhi Court on Friday disposed of former Union Minister P Chidambaram's interim bail plea on health grounds, stating that there is no need to admit the senior Congress leader to a sterilised private ward at AIIMS. However, the bench directed the Tihar Jail Superintendent to keep P Chidambaram's cell clean, and provide mineral water, protection against mosquitoes and a face mask.
Hearing the interim bail plea of the senior Congress leader -- accused in the INX Media case -- Justice Suresh Kumar Kait announced the decision after considering the medical report of All India Institute of Medical Sciences (AIIMS). The medical report was submitted in the court by Solicitor General Tushar Mehta, who stated that Chidambaram was physically examined by the medical board today morning. INX Media Case: P Chidambaram's Interim Bail Plea on Health Grounds Quashed by Delhi High Court, Bench Sends Him to Tihar Jail for 14 Days.
Justice Kait directed the Tihar Jail superintendent to ensure all arrangements are made, so that Chidambaram's surroundings are clean and hygienic. He directed teh jail authorities to provide the senior Congress leader with home-cooked food and clean mineral water. Apart from this, the court directed to provide Chidambaram with mosquito nets and masks. Special arrangements for regular monitoring of blood pressure and weekly OPD check-ups.
Earlier on Wednesday, the Delhi High Court sent Chidambaram to judicial custody till November 13, 2019, and had also rejected relief on health grounds in the INX Media money-laundering case on health grounds. In his plea, Chidambaram has sought interim relief for six days to enable him to consult and get examined by his regular doctor at the Asian Institute of Gastroenterology (AIG), Hyderabad. INX Media Case: P Chidambaram Moves Delhi High Court Seeking Interim Bail on Health Grounds.
The CBI arrested the senior Congress leader on August 21 in the INX Media corruption case. The case was registered on May 15, 2017, alleging irregularities in a Foreign Investment Promotion Board (FIPB) clearance to the INX Media group for receiving overseas funds of Rs 305 crore in 2007 during Chidambaram's tenure as Union finance minister.