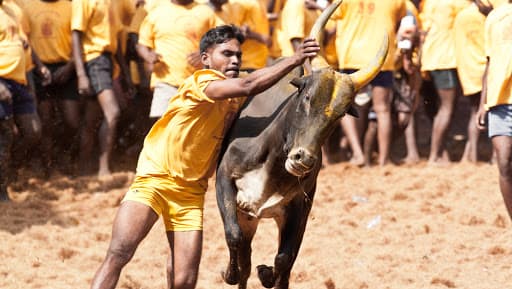 Chennai, January 16: As many as 30 participants were injured during Jallikattu competitions being held in Madurai's Palamedu in Tamil Nadu on Thursday. According to a tweet by ANI, 30 people have been injured so far, during Jallikattu. Reports inform that six people have been admitted to Rajaji Hospital in Madurai for treatment. On Wednesday, 31 participants were injured in Madurai's Avaniyapuram. Similar events will be held in Alanganallur on January 17. It must be noted that Avaniyapuram, Palamedu and Alanganallur are among the hugely popular bull taming contests in the state.
The annual bull-taming sport kicked off at Avaniyapuram in Madurai on Wednesday with the start of the Pongal festival. More than 2,000 bulls will participate in Jallikattu, which will be held till January 31 in the state. 730 bulls in Avaniyapuram, 700 bulls in Alanganallur and 650 bulls in Palamedu are participating in Jallikattu competitions this year.
Take a Look at the Pictures:
Tamil Nadu: 30 injuries reported so far, during #Jallikattu competition being held in Madurai's Palamedu today. 6 people admitted to Rajaji Hospital in Madurai for treatment. pic.twitter.com/cNm24hTp0O

— ANI (@ANI) January 16, 2020
Elaborate security arrangements were made and access to medical facilities were made readily available. The annual festival of 'Jallikattu,' will be held in several parts of Tamil Nadu during the next 15 days. The bull-taming sport began on January 15 and will continue till January 31 in several parts of the southern state.