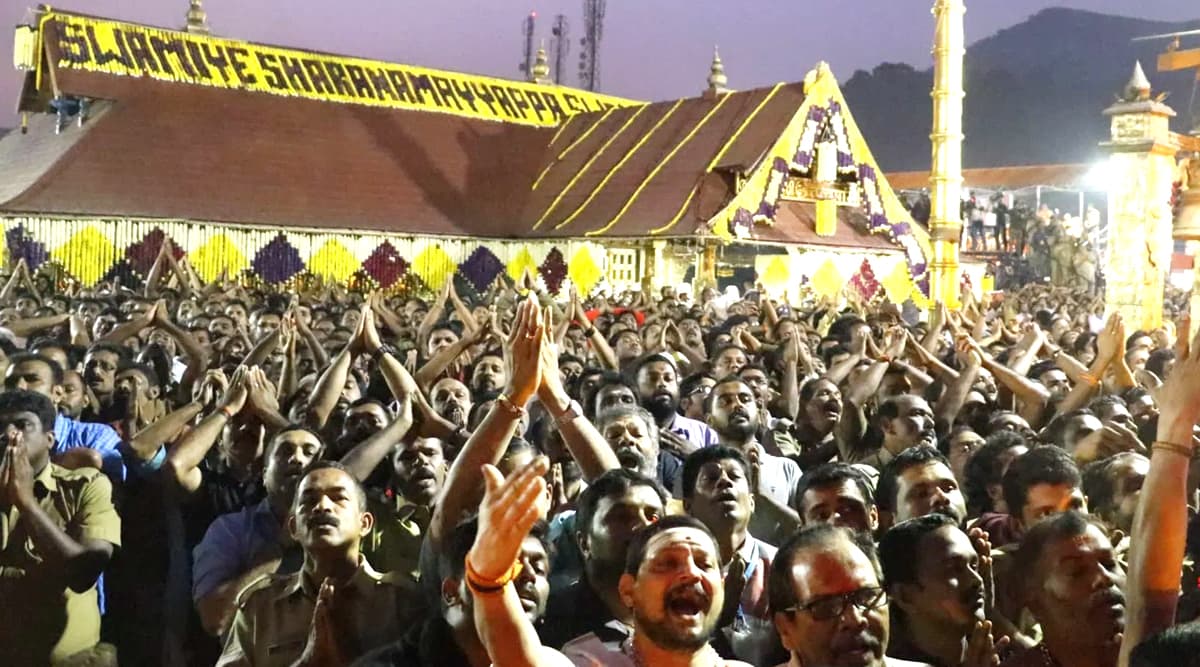 Kochi, November 17: A sea of devotees flocked to the Sabarimala temple in Kerala to offer prayers during the annual Mandala Pooja festival. The temple opened on Saturday opened for the two-month long Mandalam Makaravilakku season where pilgrims would be allowed to climb the 18 holy steps after the padi puja and have darshan. Devotees will be able to visit the temple from today, i.e. November 17 after priests opened the sanctum sanctorum of the temple, marking the beginning of 41-day long pooja season. According to reports, more than 10,000 police personnel have been posted around the Lord Ayyappa temple for security purposes during the pooja season.
On Saturday, at least 10 women, aged between 10 to 50 years, were reportedly sent back from Pamba base camp which is nearly 6 km downhill from the temple. Ahead of the temple opening, the Kerala government had made it clear that it would not provide security to any woman of menstruating age visiting the shrine. Sabarimala Temple: No Protection to Women Visiting Lord Ayyappa Shrine, Says Devaswom Board a Day Ahead of Temple Opening. 
Here's the Tweet:
Kerala: Devotees throng #SabarimalaTemple to offer prayers. The temple opened yesterday evening for the Mandala Pooja festival. pic.twitter.com/aZEoiEMn1S

— ANI (@ANI) November 17, 2019
On Saturday, after the shrine opened, A K Sudheer Namboodiri took charge as the Sabarimala Melsanthi and M S Parameshwaran Namboodiri as Malikapuram Melsanthi. On Thursday, the Chief Justice of India (CJI) Ranjan Gogoi-led bench decided to assign a larger bench to review the issue of entry of women into the Sabarimala shrine. As of now, the court ruled out the staying of its erstwhile order which permits the entry of female devotees. The Supreme Court had lifted a traditional ban on entry of women of menstrual age (10-50 years) on September 28, 2018.