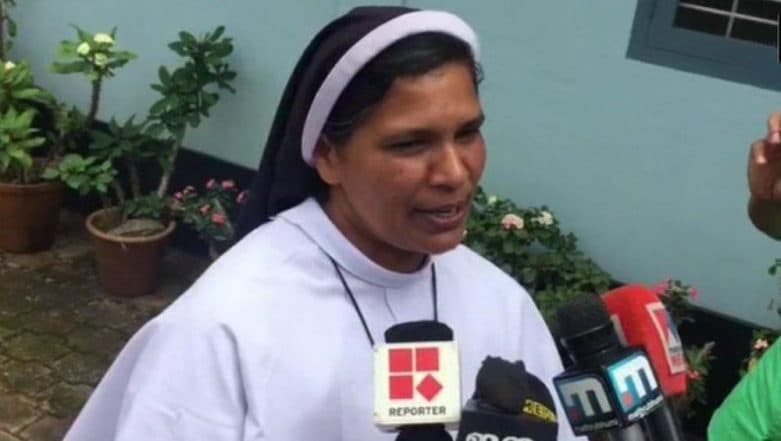 Thiruvananthapuram, August 17: Sister Lucy Kalappura - a nun expelled by her congregation in Kerala on disciplinary grounds - on Friday appealed against the decision before the Catholic Church in Rome. Sister Lucy claims that she is being targeted for participating in protests against rape accused Bishop Franco Mulakkal.
Currently based in Wayanad district, Sister Lucy was expelled by her congregation - Franciscan Clarist Congregation - in Kerala earlier this month. She has also been relieved of all services as a nun. Determined to take a stand against this, the expelled nun is mulling move to court in two weeks' time to seek justice. Kerala Nun Rape Case: Sister Lucy Kalappura Who Participated in Protest Against Bishop Franco Mulakkal, Dismissed By Church
Providing more details, Lucy said, as NDTV quotes, "I'm very afraid... they are killing me little by little, trying to take away all my happiness. My colleagues in the convent keep smiling, talking among themselves. They have completely isolated me. They don't even ask me to join them to eat or anything. I have come to terms with it, but it's still very hard."
Earlier, stating the reasons for Siter Lucy's expulsion Franciscan Clarist Congregation had said that despite issuing her warning letters, she continued to violate dress code, bought a car, disobeyed the authorities, got involved in large monetary transactions by publishing a book and bringing out a music CD, not submitting her salary to the convent, and made media appearances since September 20, 2018.
While on the other side, Sister Lucy believes that she was expelled because she stood against former Jalandhar Bishop Mulakkal, who is accused of raping a nun on 13 occasions between 2014 and 2016. According to the latest information, the bishop is now out on bail, and the case against him is being heard in a Kottayam court.