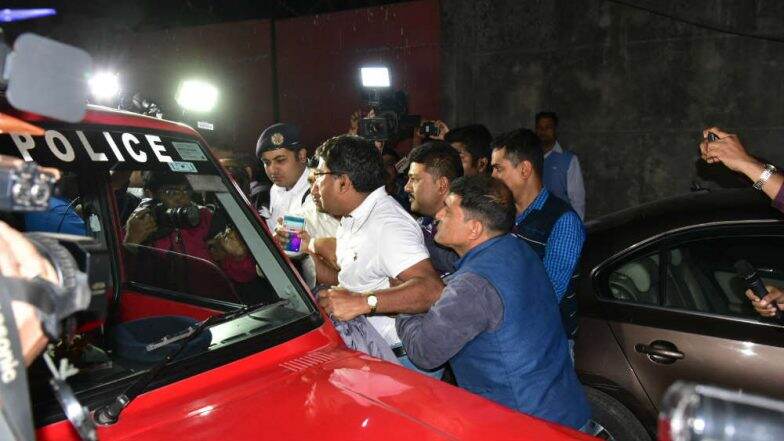 Kolkata, February 8: Kolkata police officials on Friday conducted raids at two properties belonging to former interim CBI director M Nageswara Rao in West Bengal. The police carried out searches at a place in Kolkata which reportedly has links with Nageswara Rao. It also searched Rao's wife's company Angelina Mercantile Pvt Ltd at Salt Lake, reported news agency ANI.
Amid reports of raids, Nageswara Rao issued a statement denying having any link to Angelina Mercantile Pvt Ltd. "All that is happening, appears to be propaganda," he told ANI. The development came days after an ugly face-off between the Central Bureau of Investigation (CBI) officers and personnel of the Kolkata police, when the federal probe agency had shown up near the residence of the Kolkata Police Commissioner Rajeev Kumar to quiz him in connection with chit fund scheme scam case. CBI Summons Kolkata Police Commissioner on February 9.
Former interim CBI chief M Nageshwar Rao issues a press statement, refuting any link with M/s Angela Mercantile Pvt Ltd which is being raided by Kolkata Police today. pic.twitter.com/g9RfW3Yl4c

— ANI (@ANI) February 8, 2019
Following the face-off between the CBI and Kolkata Police, West Bengal Chief Minister Mamata Banerjee went on a hunger strike for over 45 hours starting Sunday. The Supreme Court, while hearing the matter on Tuesday, directed the Kolkata Police Commissioner to join the CBI probe on February 19 at a neutral place, in Meghalaya's capital Shillong.
Earlier today, Prime Minister Narendra Modi launched a scathing attack on Banerjee, accusing her of trying to save those who defrauded the poor in the chit fund scams, and said that none of the offenders will be spared. "It has happened for the first time in the history of the nation that a Chief Minister sat in a dharna in support of those who looted thousands of poor people. She is trying to protect the looters and those who ruined the lives of the poor," Modi said while addressing a public rally at Churabhandar in the state's Jalpaiguri district.