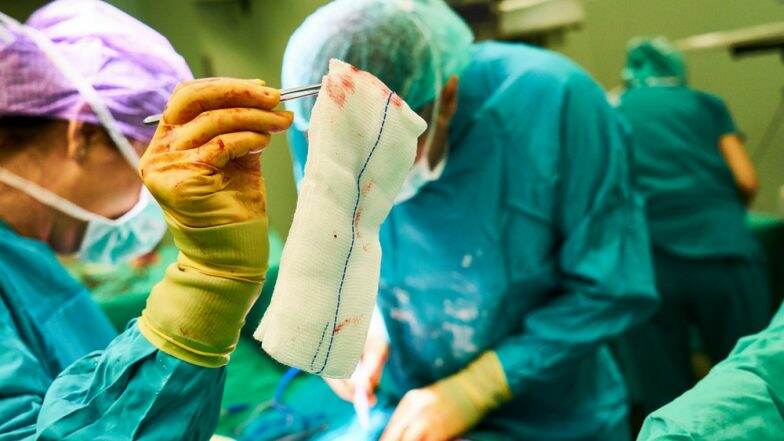 Bhubaneshwar, February 10: In another incident of medical apathy, a Dalit woman in a backward district of Odisha has complained that her right leg was operated instead of the left at a sub-divisional hospital. Mitarani Jena of Khabil village in Odisha's Keonjhar district had gone to the Anandpur Sub-divisional hospital for treatment of a wound on her left leg on February 8. Medical Apathy in Maharashtra: Lady With Broken Leg Dragged in Bedsheet Due to Lack of Stretchers in Nanded Government Hospital.
Acording to a report published in Hindustan Times, after a checkup, the doctor at the hospital instructed the medical staff to dress the wound. However, the medical staff allegedly operated the wrong leg of Jena. The patient told the media house that the staff first administered anaesthesia and after coming to senses she saw her right leg had been operated instead of the left. Medical Apathy In Delhi Government's Sushruta Trauma Centre; Worms Found Inside Patient's Wounds Admitted In ICU.
After Jena and her husband complained to the doctor of the hospital, her left leg was then operated. Jena was left immobile as both her legs were being operated, she could not move. District collector of Keonjar, Ashish Thakre took cognisance of the incident and ordered a probe. The Medical officer in-charge of Anandpur Sub-Divisional Hospital, Dr Krushna Chandra Das also assured of necessary action against the staff.
In a similar incident, doctors of Nizam's Institute of Medical Sciences (NIMS) left a pair of surgical forceps in her abdomen after surgery in November. The mistake came to light when 33-year-old Maheshwari Chowdary of Mangalhat area in Hyderabad underwent an x-ray as she was suffering from a pain in the abdomen. Relatives of the patient on Saturday staged a protest in front of the hospital and demanded action against the surgeons.