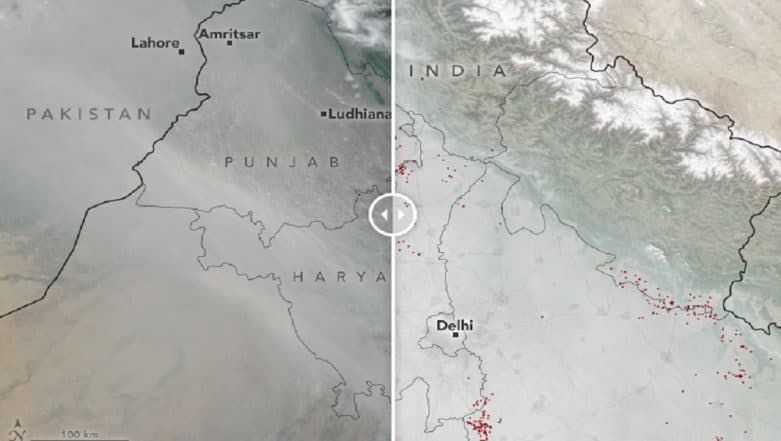 New Delhi, November 8: The NASA Earth Observatory in its latest report shared satellite images of North India, which showed how skies in the region turned "smokier and smokier" ahead of Diwali 2018 celebrations. Even before the celebrations of India's biggest religious festival, involving wide use of firecrackers, the air had already turned hazy due to stubble burning in the states of Haryana and Punjab, the report states.
The report compares a set of two images - one captured on October 30 and another on November 1 - and how the skies deteriorated in the period due to the clearance of farm lands in Indo-Gangetic plains by burning of stubble. NASA's Fake Image From Space on Diwali Goes Viral Again! Will Netizens Ever Stop Forwarding It?
Here's how the skies looked above North India on October 30:
Compare the above image with how the skies looked on November 1 (as shared below):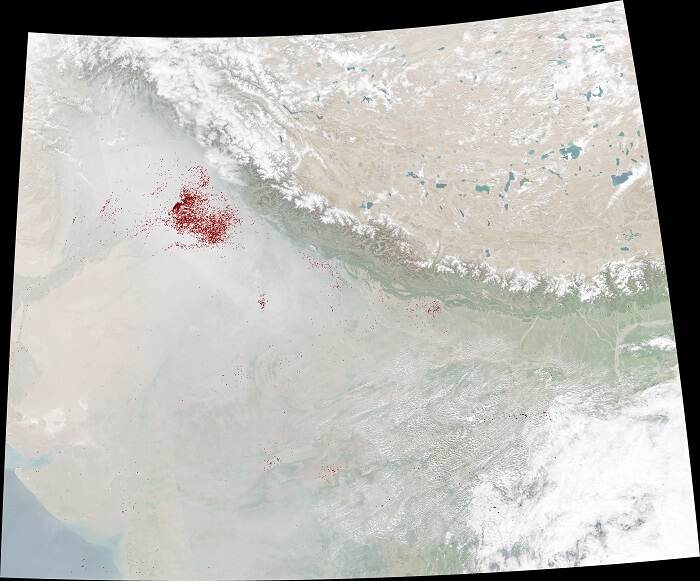 The report quotes NASA scientists who claim that burning of crop wastes increases PM2.5 particulates in the air. These nanoparticles, which are capable of travelling for thousands of miles, infiltrate the chests of residents not only in the northern states, but also in central India.
The peak of PM2.5 density in air is witnessed during the period between "October 30 to November 6", claims Hiren Jethva, a Universities Space Research Association scientist based at NASA's Goddard Space Flight Center. Jethva tracks the impact of stubble burning on year-on-year basis. "The fire counts are rising, and so are particulate matter (PM2.5) levels in New Delhi," he said.
In a bid to prevent Delhi from choking, the Supreme Court delivered an unpopular verdict this year, allowing the use of firecrackers on Diwali only for a two-hour period from 8pm-10pm. The order was intended to prevent the accumulation of smoke in the already toxic atmosphere of Delhi-NCR.
Despite the police rigorously enforcing the restrictions, the air quality in the national capital plunged to hazardous level, with the air quality index in some parts peaking up to 1,000 -- nearly 10 times higher than the "clean" mark.