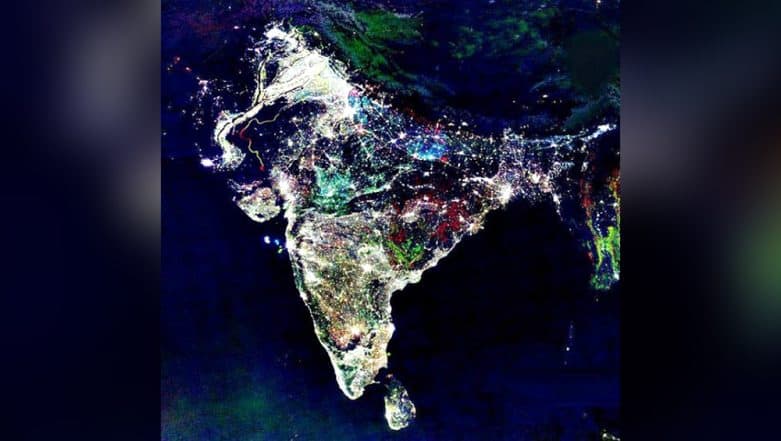 India is celebrating Diwali 2018, the festival of lights today, November 7. Every corner of the country is adorned with bright and beautiful lights, earthen lamps, flowers and Rangoli. On WhatsApp, Facebook and other social media platforms, users are sharing their warm greetings using images and meaningful quotes. #HappyDiwali is already trending on Twitter. But that's not the only thing that is trending on the occasion. The infamous fake "NASA" image of "India during Diwali" is going viral on WhatsApp. Once again, the so-called satellite photo of India taken by NASA on Diwali has taken over the internet. WhatsApp Messages, Stickers, GIF Images, SMS, Facebook Status to Send Deepavali Wishes Online. 
Sharing this fake picture on Diwali has become a ritual among Indians year-after-year on social media, like buying new clothes and bursting crackers.  The picture of a bright and pretty India on Diwali night can tempt many to hit the forward button so that even others can appreciate how beautiful the image looks. But don't! Because the photo is fake. After all these years of confirming that the photo is false, netizens have been still forwarding it. Diwali Recipes 2018: Forget The Store-Bought Mithais, Here Are 5 Sweets You Can Make At Home!
Oh, stop it!
What a wonderful view of Diwali night In India from space .

India is Great

— Shashi Goswami (@ImShashiG) November 5, 2018
A quick flashback! Like we said, this picture is not a satellite photo of India on Diwali. It is instead a composite image made with overflights from 1992 to 2003. Created by the US Defense Meteorological Satellite Program, the picture shows the growth of population over time with different colours showing when regions began recording a sharp increase with the said years. This led to the detailed lightmap you can see above. This photo is certainly not a real picture of India taken on Diwali. Hence, you need to calm down and stop forwarding this image on Deepavali 2018.