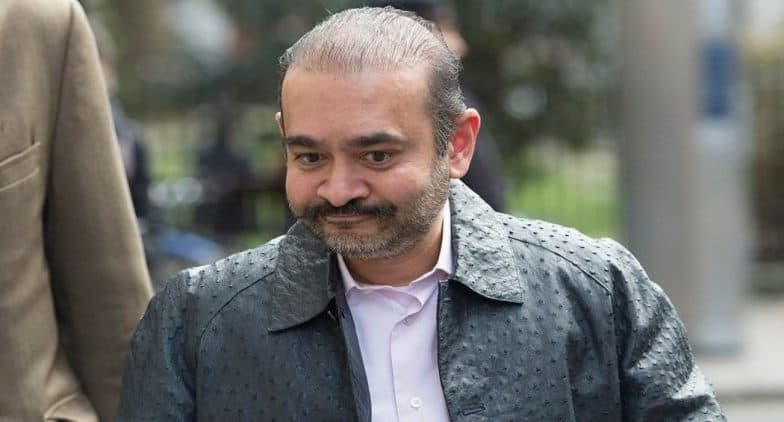 London, March 29: Diamantaire Nirav Modi, arrested last week, in the Rs 13,000 crore ($2 billion) Punjab National Bank (PNB) fraud case, was denied bail by the UK Westminster Court. Chief Magistrate Emma Arbuthnot - who also presided over Vijay Mallya's extradition case - turned down the plea moved by Nirav's counsel, and extended his police remand. The case would be again heard by the court on April 26.
A team of Central Bureau of Investigation (CBI) sleuths and Enforcement Directorate (ED) officials reached the court to attend the hearings. The set of arguments prepared by them were submitted before the bench by senior advocate Toby Cadman, representing the Crown Prosecution on behalf of the Indian authorities. Nirav Modi Planned Plastic Surgery to Evade Arrest: Reports.
Indian Officials at the Hearing:
United Kingdom: Joint team of Indian agencies Enforcement Directorate (ED) and Central Bureau of Investigation (CBI) arrives for Nirav Modi's bail hearing at Westminster Magistrate Court in London. pic.twitter.com/A4qPNqb7j9

— ANI (@ANI) March 29, 2019
Nirav, who has reportedly launched a new diamond trading business in the United Kingdom, was arrested last week based on the Interpol Red Corner notice. He was apprehended from Holborn in central London after a clerk at the Metro Bank branch tipped the authorities.
Shortly after arrest, the tainted jeweller was produced before the Westminster court which sent him to police remand. The court -- unlike Mallya's case where the former Kingfisher Airlines chief was granted bail immediately after arrest -- decided to turn down the bail application submitted by Nirav's counsel.
Judge Emma Arbuthnot had on last Friday said the quantum of alleged fraud, along with possible reasons to doubt that "the accused may not present himself" before the probing agencies, has forced her to turn down the bail plea. Nirav was subsequently sent to Her Majesty's Prison Wandsworth in South London.
The PNB loan fraud scandal was unearthed by the CBI in January 2018. Days before the FIR was registered, Nirav, along with his uncle and co-accused Mehul Choksi, fled the nation. Multiple summons issued by Indian courts so far have remained unanswered by the diamantaire duo.