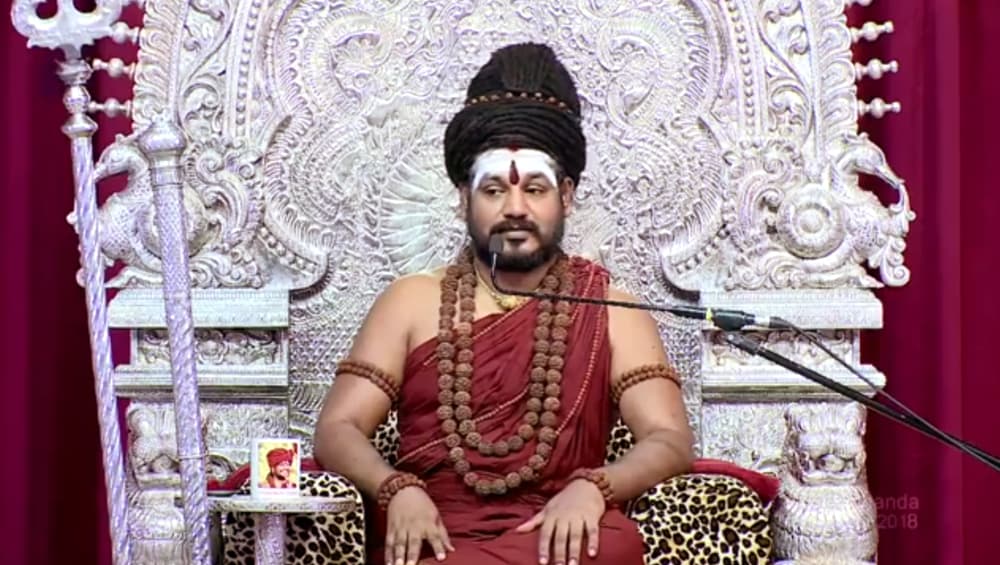 New Delhi, December 5: Trouble has been mounting for self-styled godman Nithyananda. The French government has launched a probe against him for an alleged fraud worth USD 400,000. The investigations have been initiated after one of his devotees- a French national- accused him of looting USD 400,000. Reportedly, the Interior Minister of France is collecting details about the fraud. Nithyananda, Rape-Accused Self-Styled Godman, Sets Up His 'Own Country' Named 'Kailaasa' on Private Island in Ecuador, Wants UN to Grant Sovereign Status.
The Emmanuel Macron-led French government has sought Nithyanand's bank details, Republic reported. The report also added that Macron government has alerted the Interpol on fraud godman. Swami Nithyananda Video Interview on His 'Inter-life Reincarnation Trust' Plan To Get Money From Billionaires Will Give You 'Thug Life' Feeling.
Last month, a First Information Report (FIR) was filed against Nithyananda after two girls went missing from his Ahmebadad's ashram. He was charged with wrongful confinement and kidnapping to make them collect funds from followers to run his ashram. The self-styled godman's whereabouts are a mystery since police launched a search against him.
Recently news emerged that he had created his own Hindu nation, Kailaasa, which its own passport and political set up on an island near Ecuador. According to the Kailaasa's website- kailaasa.org, it is "a nation without borders created by dispossessed Hindus from around the world who lost the right to practice Hinduism authentically in their own countries."
"Though the Kailaasa movement is founded in the United States, and spearheaded by members of the Hindu Adi Shaivite minority community, it is created for, and offers a safe haven to all the world's practicing, aspiring or persecuted Hindus, irrespective of race, gender, sect, caste, or creed, where they can peacefully live and express their spirituality, arts, and culture free from denigration, interference and violence," it read.
Last month, Gujarat Police arrested two of his associates, and also booked him under charges of abduction, wrongful confinement, voluntarily causing hurt, intentional insult to provoke breach of peace and criminal intimidation under the Indian Penal Code as well as charges under the Child Labour (Prohibition and Regulation) Act.
According to reports, Nithyananda may have fled the country despite in possession of an expired passport, possibly via Nepal by using a fake passport. The self-styled godman faces multiple charges- including rape.