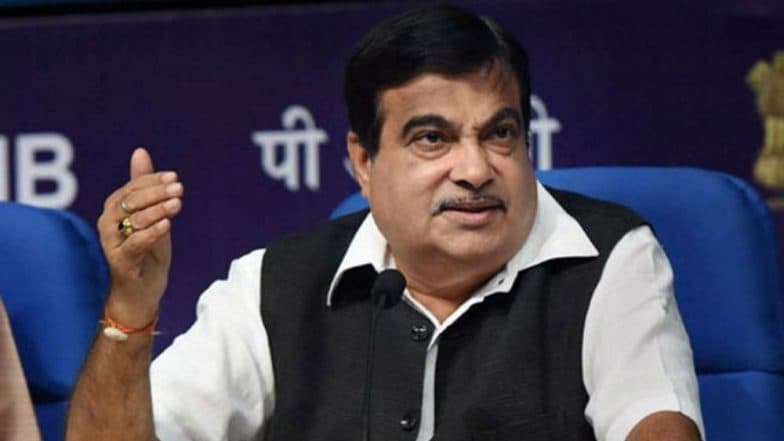 Pune, September 18: Union Transport Minister Nitin Gadkari's car was issued an "illegal" Pollution Under Control (PUC) certificate by an authorised agency in Maharashtra's Pune. After the matter was brought to notice, the Pune police registered a case against the agency which issued the PUC. The FIR, as per reports, has been lodged against PUC Centre with the Deccan Police Station. Nitin Gadkari Fined for Over-Speeding on Bandra-Worli Sea Link in Mumbai.
A preliminary inquiry has revealed that the car was issued the environmental safety certificate without checking it. The vehicle was neither put on gas analyser machine nor subjected to other tests to analyse its impact on pollution.
"The certificate of PUC was issued without following the process," said an official privy to the case. He added that stringent action under the relevant laws would be taken against the PUC Centre.
Update by ANI:
An accused had made PUC on Nitin Gadkari's car without checking his car and without checking it on gas analyser machine. The certificate of PUC was issued without following the process. https://t.co/zpx4BZXfGI

— ANI (@ANI) September 18, 2019
As per the amended Motor Vehicle Act (MVA), fine for driving a vehicle without a PUC is Rs 500. Before the new law came into force, Rs 100 was levied on violators.
Gadkari, who has staunchly defended the new provisions which have exponentially raised fines on traffic norm violations, had earlier said that even Ministers will have to pay the fine if found breaking the rules.
"People are complaining about the higher penalties, even I have been fined for over speeding on the Bandra-Worli sea link in Mumbai, as the car was registered under my name," he had said.