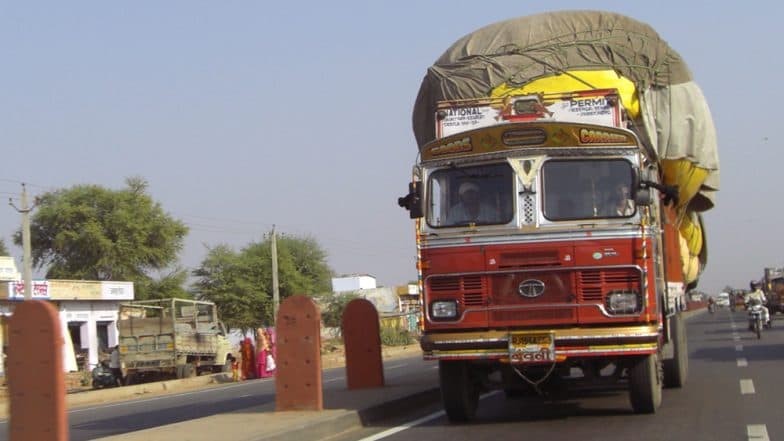 Bhubaneswar, September 8: In a latest incident of traffic rule violation in the country, a truck driver in Odisha has reportedly become the single biggest violator of the amended Motor Vehicles Act after he was fined a staggering amount of Rs 86,500 for violating rules in Sambalpur district. Reports inform that the driver identified as Ashok Jadav was fined on September 3. However, the incident came to light after a picture of the challan went viral on social media. According to a report by Hindustan Times, the driver did not pay the full amount but managed to Rs 70,000 after negotiating with authorities for over five hours. UP Shocker: Aligarh Man Gets E-Challan For Not Wearing Helmet While 'Driving Car'.
The report quotes Sambalpur's regional transport officer Lalit Mohan Behera saying that the driver was penalised for allowing an unauthorised person to drive which amounts for Rs 5,000 fine, driving without a licence which calls for Rs 5,000 fine, overloading with an excess of 18 tonne, which amounts to Rs 56,000, carrying over dimension projections for which the driver was fined with Rs 20,000 and and general offence which attracts of fine Rs 500. The total sum of the violation of laws under the new Motor Vehicles Act amounts to Rs 86,500.
The report informs that the truck belonged to a Nagaland-based company named BLA Infrastructure Private Limited. The truck was loaded with a JCB machine and was on its way to Chhattisgarh from Talcher town of Angul district when it was intercepted by officials. A similar incident was reported from Bhubaneswar in the last week where an auto-rickshaw driver in Bhubaneswar was fined Rs 47,500 for driving his vehicle without a valid driving licence, registration certification, insurance certificate as well as for drunken driving.