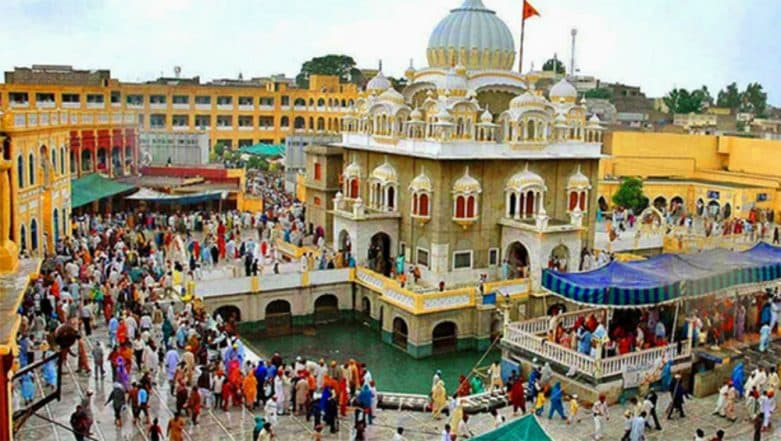 Islamabad, November 22: Indian officials are once again denied entry into the Nankana Sahib Gurudwara by Pakistan security personnel. It is the third time in six months when Indian officials were barred from entering gurudwaras in Pakistan. Similarly, in June, the Indian High Commissioner in Pakistan Ajay Bisaria and his wife were not allowed Gurdwara Panja Sahib in Hasabdal to meet the visiting Sikh pilgrims. Meanwhile, The Shiromani Gurdwara Parbandhak Committee (SGPC) condemned Pakistan for not allowing the Indian envoy in Islamabad and consular officials to visit Panja Sahib.
The 266-member jatha went to Pakistan on June 21 to observe the death anniversary of Maharaja Ranjit Singh on June 29 at Gurdwara Dehra Sahib in Lahore. The pilgrims who were staying at Gurudwara Panja Sahib were also supposed to visit other gurudwaras including Nankana Sahib. They were denied permission to meet the Indian high commissioner. Punjab Chief  Minister Captain Amarinder Singh also condemned the act.
In April also, India lodged a protest with Pakistan over its diplomats not being allowed to meet Sikh pilgrims at Nankana Sahib gurudwara visiting the country on the occasion of Baisakhi. In its protest to the Pakistan foreign ministry, India alleged Pakistan for not following the code of conduct of 1992, which was reaffirmed by both the nations.
Earlier in the day, Pakistan agreed to India's request to build Kartarpur Corridor on the 550th Birth Anniversary. Pakistan Foreign Minister Shah Mehmood Qureshi tweeted confirming his government's decision. The work of the corridor will be completed by 2019. Meanwhile, Pakistan Prime Minister Imran Khan will visit Kartarpur on November 28.