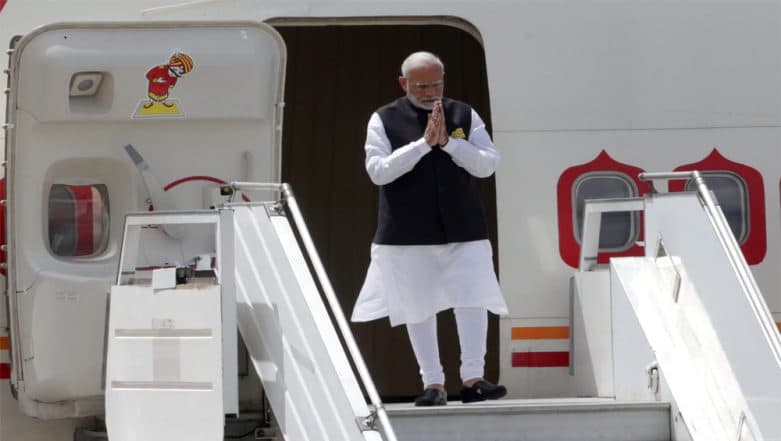 New Delhi, June 25: Two weeks after the remarkable visit to Shanghai Cooperation Organisation (SCO) summit in Bishkek in Kyrgyzstan, Prime Minister Narendra Modi is all set to attend the G-20 Summit in Japan between June 28 and 29. During the meeting, PM Modi would be holding 10 bilateral meetings with member countries.
Hosted by Japan in Osaka's International Exhibition Center for the first time, it would be attended by all the member country's representatives, including the Indian Premier. In the G-20 Summit, PM Modi would hold bilateral meetings with France, Japan, Indonesia, US and Turkey. Also, meetings with other members can also be speculated. Kyrgyz President Sooronbay Jeenbekov Gifts Hat and Coat of His Country to Narendra Modi
Earlier on June 13-14, the Indian Premier attended the SCO Summit in Bishkek in Kyrgyzstan where he held bilateral meetings with Chinese President Xi Jinping and Kyrgyzstan President Sooronbay Jeenbekov. Also, PM Modi also met Pakistan counterpart Imran Khan on the sidelines of the SCO Summit where the duo discussed issues of terrorism and peace in the region.
Now, with the next foreign summit in place and PMO confirming Modi's visit, issues on terrorism, climate change, trade and visas are the key sectors which would be taken into consideration during the bilateral meetings. This G-20 Summit is PM Modi's third international visit, after Maldives and Kyrgyzstan.