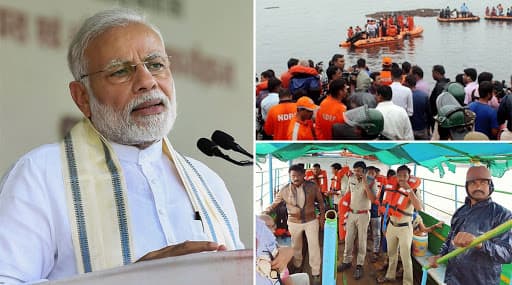 New Delhi, September 15: With more than 11 people feared to be drowned in the boat capsize incident in Godavari river in Devipatnam of Andhra Pradesh, Prime Minister Narendra Modi on Sunday expressed his condolences and stated that his thoughts are with the bereaved families. Earlier, Chief Minister Jagan Mohan Reddy has announced Rs 10 lakh ex-gratia each to the families of the deceased. Andhra Pradesh: 11 Drown After Boat Capsizes in Godavari River, Jagan Mohan Reddy Announces Rs 10 lakhs ex-Gratia to Deceased's Kin.
Expressing his grief over the incident, Prime Minister took to Twitter and wrote in Telugu, "A boat accident in Andhra Pradesh's East Godavari district today is one of the most traumatic. I express my deepest condolences to the families of the deceased. Auxiliary operations at the accident site are underway."
Here's the Tweet:
ఆంధ్రప్రదేశ్ తూర్పు గోదావరి జిల్లాలో ఈ రోజు జరిగిన బోటు ప్రమాదం ఒక అతి బాధాకరమైన ఘటన. మృతుల కుటుంబాలకు నా తీవ్ర సంతాపం వ్యక్తం చేస్తున్నాను. ప్రమాద స్థలం వద్ద సహాయక చర్యలు ముమ్మరంగా సాగుతున్నాయి.

— Narendra Modi (@narendramodi) September 15, 2019
Earlier, rescue operations by National Disaster Response Force or NDRF began, along with the helicopters of Oil and Natural Gas Corporation (ONGC). While, state CM Jagan Mohan Reddy. According to the information, 61 people were on-board at the time of the incident and were tourists from the Gandipochamma temple on the banks of the river to the scenic Papikondalu hills for sightseeing. 23 people have been rescued till now.