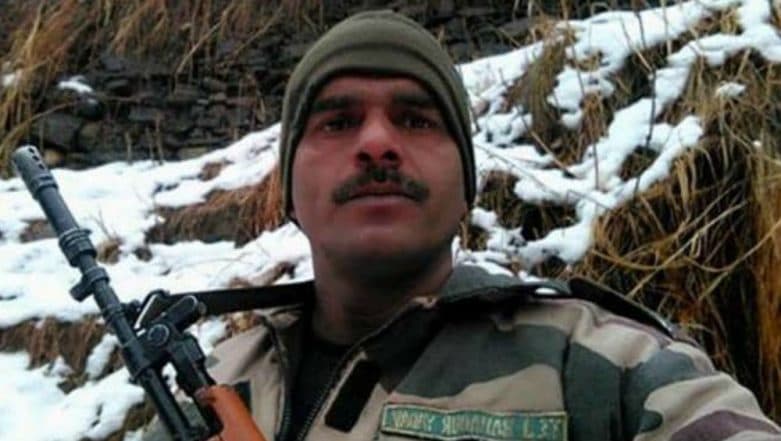 Rewari, January 18: Rohit, son of Tej Bahadur Yadav, the Border Security Force (BSF) Constable who attracted the nation's attention on the issue to poor food being served to the jawans through a video in 2017, was found dead in his room on Thursday night. The police suspect it to be a case of suicide.
The 22-year-old Rohit, constable's Tej Bahadur's son, was found dead in his room with a pistol, said the police after they reached the constable's house. Rohit was studying in Delhi university and had come home for holidays.
Tej Bahadur Yadav is in Prayagraj for attending the Kumbh, and has been informed about the incident, said the police. It was Rohit's mother who alarmed the police after she found Rohit's door locked and could get no reply when she tried to get the room opened.
Check the Visuals in the ANI Tweet Below:
Haryana: Rohit, 22-year-old son of Tej Bahadur Yadav (BSF constable who was dismissed from service after he had released a video last year on quality of food served to soldiers) found dead at his residence in Shanti Vihar, Rewari. pic.twitter.com/sVhY5ve6Ju

— ANI (@ANI) January 17, 2019
Tej Bahadur Yadav had stirred a controversy in 2017 after he posted four videos on Facebook and complained about the poor quality of food that was been served to jawans at the Indo-Pakistan border in Jammu and Kashmir. However, BSF took strong note of his protest and dismissed Tej Bahadur Yadav's allegations. Tej Bahadur Yadav was suspended from service after a BSF inquiry. Tej Bahadur lives with his family in Haryana's Rewari now.