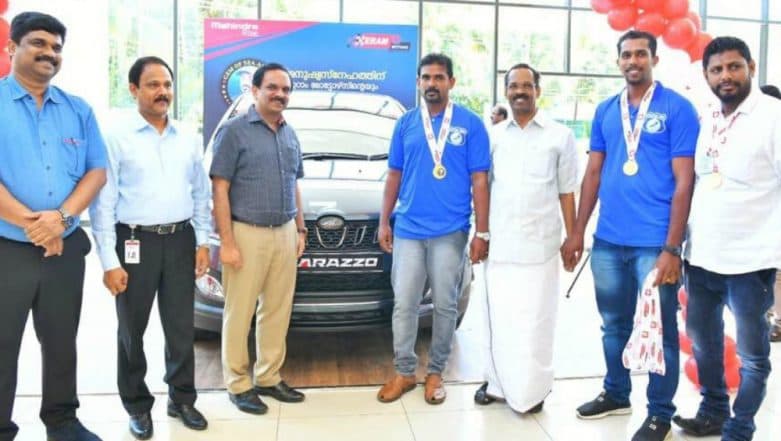 In an exemplary act of rewarding a person for the good work done, Mahindra & Mahindra vehicles authorized dealer Eram Motors has rewarded Sri Jaisal, the man who helped Kerala flood victims, by presenting him the newly launched Mahindra MARAZZO. The picture of Jaisal receiving the car has gone viral on social media platform Twitter. Jaisal is the one who had offered himself as a footstep to those stranded in floods get on the boat. Heart-Rending Videos of Kerala Floods That Show Both Devastation and Hope in the Rain-Ravaged State.
"As an act of recognition and gratitude, we present the first vehicle to Sri Jaisal who submitted himself, alongside thousands, as a rescuer during the floods in Kerala. Jaisal was the one who offered himself as a footstep to help save lives. Let MARAZZO be a companion for Jiasal and team to do more such great and brave deeds." Kerala Floods: People in Chengannur Bows to Fishermen for Saving Their Lives; Heartwarming Pic Shared by Mohammad Kaif Goes Viral.
Watch video of Sri Jiasal offering himself as a step to help women and children get into the boat:
Twitter was both amazed and happy at the gesture and shared picture of Jaisal with the newly launched car. See picture in the tweet below:
Let me admit ,I haven't witnessed such a gesture ever in past , Dr Siddeek Ahmed possibly creates a new record in bestowing such an honour to his brave employee Sri Jaisal 👏👏👏👏 pic.twitter.com/FmbgRGcG73

— Sanjoy (@tweetsSANJOY) September 8, 2018
Chief Minister Pinarayi Vijayan had earlier said that Kerala faced the worst flood situation since 1924. The rescue forces of Army, Navy, Air Force, Coast Guard and National Disaster Response Force (NDRF) were all involved in the relief operation. Majorly affected places include Pathanamthitta, Kozhikode, Ernakulam, Thrissur, and Alappuzha. The central government released special package for flood relief operations in Kerala and it is estimated that the floods killed more than 400 people in the state.