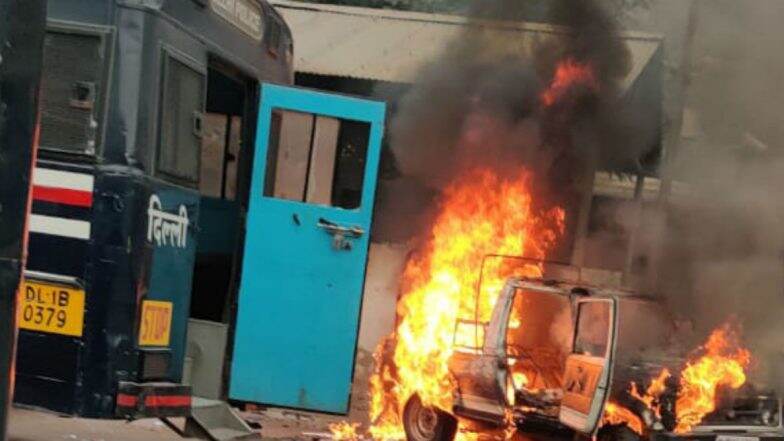 New Delhi, November 4: Two days after violence inside the Tis Hazari court complex, lawyers and police clash once again at Delhi's Karkardooma court on Monday. According to a report, the clash broke out after advocates assaulted a police officer inside the Karkardooma court area. It remains unclear what led to the scuffle between lawyers and police personnel. Lawyers at the Tis Hazari court are on strike against the alleged police brutality. Tis Hazari Court Violence: Security Tightened as Lawyers Strike Work.
On Saturday, lawyers and police clashed at the Tis Hazari court complex during which at least 20 police personnel and several lawyers were injured while many vehicles were set on fire. An advocate was injured in police firing. The Delhi High Court on Sunday took suo moto cognizance on the matter and removed Special Commissioner (in-charge Law and Order) Sanjay Singh. Special Commissioner RS Krishnaiya has been given the additional charge for the time being. Tis Hazari Court Violence: Undertrials Lodged in Lock-Ups During Police-Lawyers Clash May Be Made Witnesses.
Violence at Karkardooma Court:
वकीलों की गुंडागर्दी का एक और वीडियो। कड़कड़डूमा कोर्ट के बाहर @DelhiPolice के खिलाफ प्रदर्शन कर रहे वकीलों ने एक मोटरसाइकिल सवार की बिना वजह पिटाई की। pic.twitter.com/ejvghoegF2

— Jitender Sharma (@capt_ivane) November 4, 2019
The court appointed a retired judge to be assisted by Directors of the Central Bureau of Investigation (CBI), the Intelligence Bureau and Vigilance to conduct a judicial inquiry into the clash. It further asked Delhi Police to record the statement of injured advocates Vijay Verma, Pankaj Dubey, Ranjit Malik, Sagar Sharma and other such advocates. The court also directed the Delhi government to provide compensation to the injured advocates.
According to the counsel for the Centre, 21 cops were injured in the incident, and eight police vans burnt. The police have transferred the additional sub-inspector (ASI) Pawan Kumar and suspended ASI Kamta Prasad.