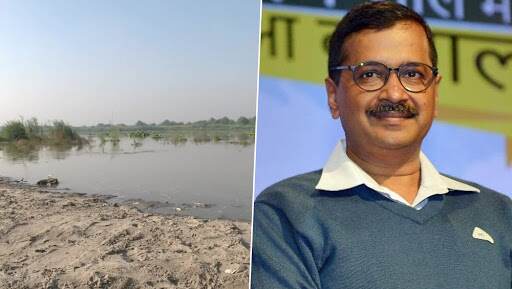 New Delhi, August 19: With the sudden rise in the water level of Yamuna river due to cloudburst in Uttarkashi and heavy downpour in Himalayan states for the last couple of days, Delhi Chief Minister Arvind Kejriwal on Monday called for an emergency meeting of concerned officials. Information is pouring that water level of Yamuna river reached 204.70 metres on Monday, crossing the danger mark of 204.50 metres.
According to initial reports, the Delhi government has already issued orders for evacuation and have deployed Civil Defence volunteers for this work. Eevn all the emergency services have been informed to be ready for a rescue mission, if any untoward incident takes place or water increases beyond control. Himachal Pradesh Floods: NH3 Between Manali And Kullu Partially Damaged Due to Heavy Rains
Here's the tweet:
Delhi Government has called for an emergency meeting of concerned officials in wake of the rising water level in the national capital. Delhi CM Arvind Kejriwal will chair the meeting. (File pic) pic.twitter.com/XxsnTbNbrP

— ANI (@ANI) August 19, 2019
Earlier, unofficial reports through various sources came that at least 24 people have died so far in Himachal Pradesh, while 22 are reported missing following a cloudburst in Uttarakhand's Uttarkashi. Heavy rains have disconnected the states from its neighbours as National Highways have either been washed away or are covered with landslides or flash floods.
Heavy downpour has forced the authorities to close the educational institutions and workplaces. Emergency services and personnel from NDRF, SDRF, Red Cross and others have been deployed for rescue missions, but heavy rainfall is making id difficult for the authorities to extend the help. People are stuck at various place in the region and are waiting to be rescued.