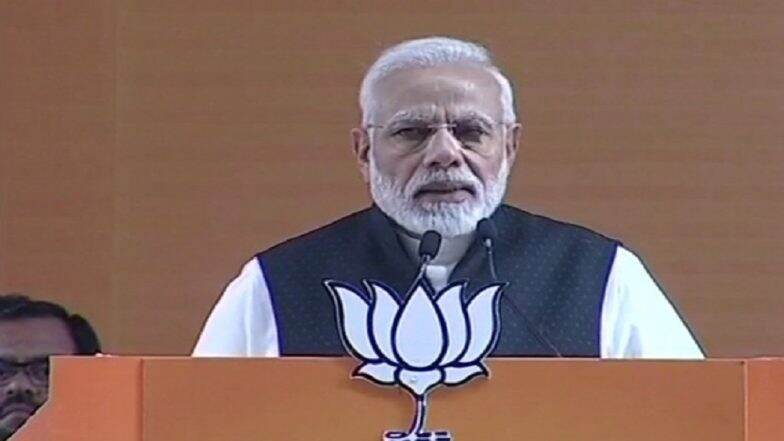 New Delhi, January 12: Addressing the second and final day of the BJP National Convention, Prime Minister Narendra Modi launched a blistering attack on the Opposition for questioning his government on introducing 10 per cent reservation for the financially weaker sections among the upper castes.
The quota for general category, said PM Modi, is aimed at creating equality in opportunities before the nation. "The reservation for general category will boost confidence of financially weak citizens," he claimed. Bill Sanctioning 10% Reservation For Upper Castes Passed in Rajya Sabha.
Modi blamed a section of his political opponents of stoking fear among the scheduled castes, scheduled tribes and other backward classes. "For their political gain, they want to spread a dangerous propaganda," Modi said.
"I want to clarify, no one can deny reservation to the SC, ST, OBC communities. These communities were subjected to historical injustice. Reservation for them will always be there," he added.
The Bill sanctioning 10 per cent reservation for general category has been cleared with a brute majority in both Lok Sabha and the Rajya Sabha, in the recently concluded Winter Session of Parliament.
Most political parties, barring the AIADMK, DMK and AIMIM, had voted in favour of the 124th Constitution Amendment Bill, which increases the reservation cap to 59 per cent.
The Bill needs to be ratified by at least half of the state legislatures, before being enacted as a law.
The Congress, which has supported the legislation, has expressed doubts over the intention of the government. Senior party leader and Rajya Sabha MP Ahmed Patel said the Centre has not laid the groundwork for implementing the reservation, adding that the primary intent of the law is to reap electoral benefits in the upcoming parliamentary elections.