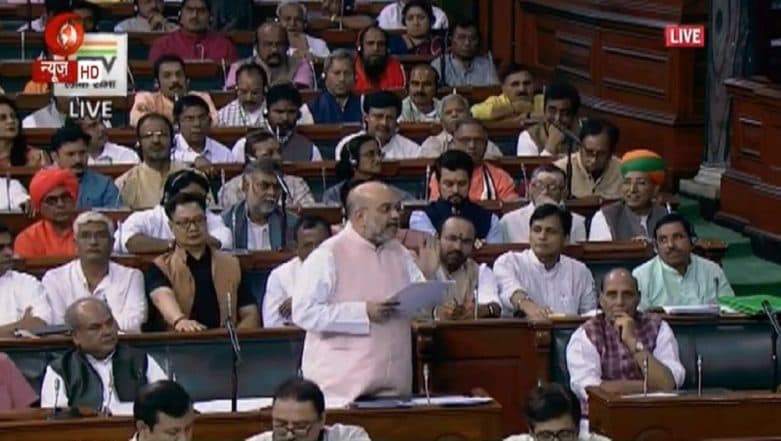 New Delhi, June 28: Union Home Minister Amit Shah, while addressing the Lok Sabha on Jammu & Kashmir imbroglio on Thursday, put the onus on late former prime minister Jawaharlal Nehru for the conflict in the state. The BJP leader further blamed the Congress of lacking the political will to resolve the crisis in the Valley.
Shah claimed that the policies enacted by Nehru, during his stint as the PM, was detrimental to the interests of India. The Home Minister held Nehru squarely responsible for the ceding of parts, now known as PoK, to Pakistan. J&K Assembly Elections 2019 Likely By End Of Year, Amit Shah Proposes Extension of President's Rule
"Who called for ceasefire back then? It was Jawaharlal Nehru who did it and gave that portion(PoK) to Pakistan," he said.
The Home Minister's statement came shortly after Congress MP Manish Tewari accused the Centre of not taking Opposition onboard while formulating its strategy to address the unrest in Kashmir.
Shah, countering the claim, said Nehru had not taken the then Home Minister Sardar Vallabhbhai Patel onboard while handling the crisis in Kashmir.
"You say we don't take people into confidence, but Nehru ji did it without taking the then Home Minister into confidence. So Manish(Tewari) ji don't teach us history," he said.
Shah said the Congress has always toed the line with forces who are inclined towards secession.
"In 1931 Muslim Conference was established led by Sheikh Abdullah, for long Congress did not start its unit there and supported Muslim Conference. Congress put all its eggs in Abdullah's bucket but Abdullah ran away with bucket, as a result Sheikh Abdullah became PM there," he said.
"In 1953, when Shyama Prasad Mukherjee ji entered Kashmir protesting against the two Prime Ministers in a country rule he was thrown in jail. His death was also not probed. Why? Was he not a senior opposition leader? A leader from Bengal, a former Union Minister," asked Shah.
The Home Minister further claimed that it was the BJP which has taken tough decisions to curb the anti-India sentiment in the Valley.
"Why wasn't Jamaat-e-Islami banned till date? Who did you want to please? It was the BJP govt that banned Jamaat-e-Islami. Who put the ban on JKLF? It was the BJP who did it," Shah said.
Notably, the Jammu & Kashmir wing of Jamaat-e-Islami was banned in March this year by the central government. Premises linked to the organisation were subsequently raided on suspicion of availing funds from Pakistan.