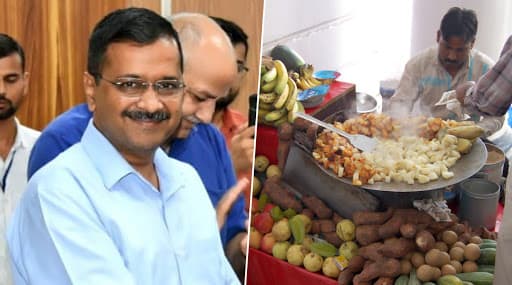 New Delhi, September 24: With just months remaining for the Assembly Elections in Delhi, Union territory Chief Minister Arvind Kejriwal on Tuesday announced his campaign to reach out to street vendors. And for this, his Aam Aadmi Party government had become the first one to notify the Street Vending Act. Onion Prices Soar to Rs 80/Kg, Arvind Kejriwal Says Will Try to Supply Bulb at Rs 24 in Delhi Through Mobile Vans.
Addressing a press conference in the national capital, he said as the Live Mint quotes, "Hawkers and unauthorised pavement sellers play an important role in the day to day lives of people in any city. In other developed countries, there is a legal framework and have proper rules for them. Here they are being extorted; they are forced to give bribes and are pushed around. They are not organised, and hence there are traffic violations. Keeping all this in mind, in 2014, a street vending act was passed but never applied anywhere. Delhi government will be the first to apply that rule."
Apart from this, Kejriwal added that through this act, the certification process of street vendors would become fast and simple. He stated that street vending committees have to be made for this and the final notification for that was done last week. Kejriwal claimed that the survey process is over, and soon identification cards would be distributed.
The AAP convenor added, "Post this there will be no extortion because they will get a legal identification. They will also get a fixed spot after this. It is unfortunate that there was no legal status given to them, and hence, what they do is called illegal. They are troubled by all departments. It is necessary to bring them in the legal framework." He even mentioned that for a new person, one would have to apply to the town vending committee.